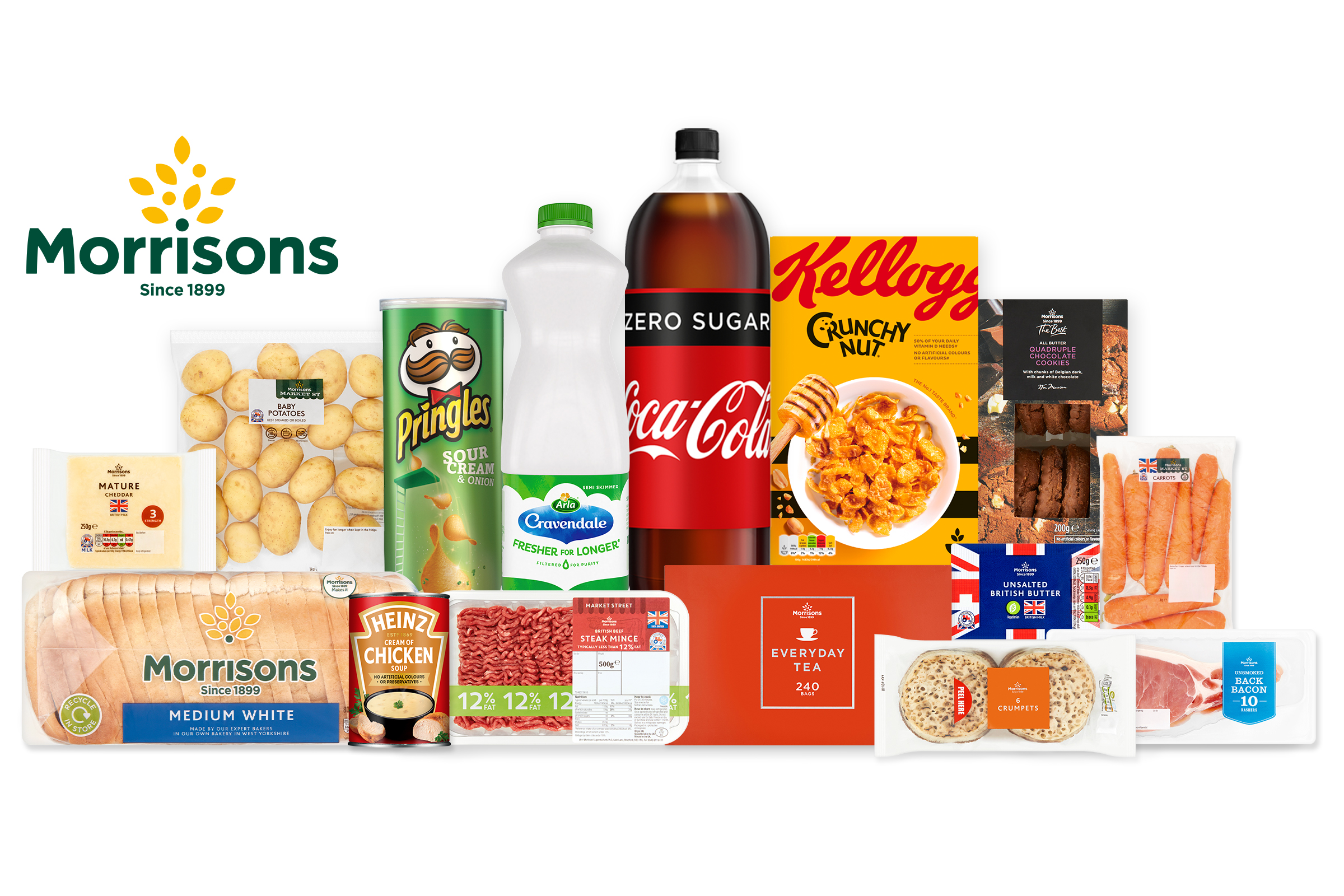 - The service will be available from more than 130 Morrisons stores across the UK and covers one in four households -
- Customers will be able to order from 70 essential household items for on-demand delivery in as little as under 30 minutes -
- The Morrisons-Deliveroo partnership is even more important for families and vulnerable people that are isolated at home during the COVID-19 crisis -
- Menus include a selection of items that customers might need, such as British meat, fruit & veg and store cupboard essentials -
- Items will be priced at the same price as Morrisons stores -
- Deliveroo and Morrisons will continue to support vulnerable customers -
Morrisons and Deliveroo are announcing a partnership to enable customers to order from 70 essential household items from Morrisons stores for on-demand delivery.
Both Morrisons and Deliveroo want to play their full part in feeding the nation during this very difficult and uncertain period. From today, a new service will allow customers to order from a range of essentials delivered to their door, on-demand, by a Deliveroo rider in as little as under 30 minutes.
The move will be for the duration of the Covid-19 crisis. The new offer is important for families now staying at home and those unable to order speedy delivery from supermarkets due to high demand.
All deliveries will be contact-free to ensure safety, with Deliveroo riders leaving the deliveries at customers' doors to collect, minimising person-to-person contact.
The service will be available from more than 130 Morrisons stores across the UK* and covers one in four households (6.8 million). Customers will be able to order on the Deliveroo app or website, as normal, from a selection of around 70 items, including meat and Quorn, fruit and household essentials.
In an effort to ensure that customers can access essential items at affordable prices during the COVID pandemic, items will be priced the same as Morrisons stores and there will be a flat £4.99 delivery fee (unless customers have the Deliveroo Plus service).
Morrisons Chief Executive David Potts said: "Our partnership with Deliveroo will help us to continue to play our full part in feeding the nation. Customers will be able to order essential products from Morrisons biked by Deliveroo to the door in as little as under 30 minutes. It's a great combination of traditional and modern methods and it will provide more vulnerable people with the opportunity to receive their home delivery."
Ajay Lakhwani, Vice President of New Business, Deliveroo said: "With families and vulnerable people in isolation, it is more important than ever that we make sure they have access to the essential household items they need. During this worrying period we want to play our role in making sure people have access to a range of items, in particular the vulnerable who cannot leave their homes."
This service is one of the ways that Morrisons is increasing home delivery to help vulnerable people and those affected by the Coronavirus. These measures include launching a new range of simple-to-order food parcels delivered to customers' doorstep and making more delivery slots available through Morrisons.com.
Morrisons and Deliveroo will continue to support vulnerable customers during this difficult period.
* Delivery is within 2.5 miles of the store
Morrisons stores and launch dates:
Aylesbury Morrisons
2033 Station Way
HP20 2SQ
8th April
Acocks Green
1149 Warwick Road, Acocks Green
B27 6RA
8th April
Dukinfield Foundry Street
94 Foundry Street
SK16 5PJ
8th April
Hyde Mottram Road
Mottram Road
SK14 2NG
8th April
Leeds Morley Morrisons
Wellington St, Morley
LS27 9BG
8th April
London Erith Morrisons
James Watt Way
DA8 1BA
8th April
Banbury Swan Close Morrisons
1 Swan Cl Rd
OX16 5AQ
8th April
Bolton Dawes Street Morrisons
1 Black Horse St
BL1 1PQ
8th April
Bolton - Breightmet Morrisons
Bury Road, Breightmet BL2 6QT
BL2 6QT
8th April
Bracknell The Peel Centre
The Peel Centre RG12 1EN
RG12 1EN
8th April
Bradford Mayo Avenue Morrisons
110 Mayo Avenue
BD5 8HP
8th April
Bradford Thornbury
Thornbury BD3 7HZ
BD3 7HZ
8th April
Bradford Victoria
Young Street BD8 9TP
BD8 9TP
8th April
Bradford Enterprise 5
275 Bradford Road
BD10 8EG
8th April
Birmingham Small Heath Morrisons
280 Coventry Rd
B10 0XA
8th April
Bath London Rd Morrisons
York Place, London Rd
BA1 6AE
8th April
Burton u Trent Wellington Road Morrisons
113-129 Wellington Rd
DE14 2AR
8th April
Borehamwood Morrisons
Stirling Way
WD6 2BT
8th April
Hoddesdon Morrisons
8 Amwell St, Hoddesdon
EN11 8UB
8th April
Loughton High Rd Morrisons
246/250 High Rd
IG10 1RB
8th April
Strood Morrisons
Knight Rd
ME2 2AA
8th April
Stockport Cheadle Heath Morrisons
301 Edgeley Rd
SK3 0RJ
8th April
Chesterfield Chatsworth Rd Morrisons
1993 Bobbin Mill Ln
S40 3BQ
8th April
Chorlton Cum Hardy Wilbraham Rd Morrisons
Wilbraham Rd M21 0SD
M21 0SD
8th April
London Petts Wood Morrisons
70 Queensway, Petts Wood BR5 1DH
BR5 1DH
8th April
London - Canning Town
Silvertown Way, Canning Town E16 1ED
E16 1ED
8th April
Coventry Holyhead Road Morrisons
Holyhead Road CV5 8BX
CV5 8BX
8th April
London Stamford Hill Morrisons
47/49 Stamford Hill N16 5SR
N16 5SR
8th April
Heckmondwike Union Street Morrisons
17 Union Street WF16 0HL
WF16 0HL
8th April
London - Ealing Broadway Morrisons
Unit 3, Arcadia Centre, The Broadway, Ealing W5 2ND
W5 2ND
8th April
Edgbaston Morrisons
30 Hagley Road B16 8PE
B16 8PE
8th April
London - Colindale Morrisons
399 Edgware Road, Colindale NW9 0AS
NW9 0AS
8th April
London Enfield Morrisons
Southbury Road EN1 1TW
EN1 1TW
8th April
London Holloway Morrisons
10 Hertslet Road N7 6PL
N7 6PL
8th April
Yiewsley High Street Morrisons
67 High Street UB7 7QQ
UB7 7QQ
8th April
Brentford Morrisons
228 High Street TW8 0JG
TW8 0JG
8th April
Poynton Morrisons
Springfield, Poynton SK12 1JG
SK12 1JG
8th April
Holbrook, Coventry Morrisons
Parkgate Road CV6 4GB
CV6 4GB
8th April
Leeds Swinnow Rd Morrisons
Swinnow Road LS13 4DN
LS13 4DN
8th April
Leeds Horsforth Morrisons
69 Town Street LS18 5BP
LS18 5BP
8th April
Leeds Yeadon Morrisons
Yeadon LS19 7PP
LS19 7PP
8th April
Harrow - Trident Point Morrisons
19 Pinner Road HA1 4HX
HA1 4HX
8th April
Swinton Swinton Hall Rd Morrisons
Swinton Hall Road M27 4BT
M27 4BT
8th April
Bristol Fishponds Morrisons
668-718 Fishponds Road BS16 3US
BS16 3US
8th April
Leeds Kirkstall Morrisons
Kirkstall LS5 3RP
LS5 3RP
8th April
Harehills, Leeds Morrisons
Chatsworth Rd LS8 3RG
LS8 3RG
8th April
Loughborough Thorpe Acre Morrisons
Gorse Covert Centre LE11 4RZ
LE11 4RZ
8th April
Manchester - Piccadilly Gardens Morrisons
19-25 Piccadilly M1 1LU
M1 1LU
8th April
Manchester - Grafton Street Morrisons
Grafton Street M13 9NU
M13 9NU
8th April
Hinckley Stoke Rd Morrisons
Normandy Way LE10 1YA
LE10 1YA
8th April
Camberwell Green Morrisons
Butterfly Walk SE5 8RW
SE5 8RW
8th April
London Palmers Green Morrisons
Aldermans Hill N13 4YD
N13 4YD
8th April
London - Harrow - Hatch End Morrisons
299 Uxbridge Road HA5 4QT
HA5 4QT
8th April
Whitefield Stanley Road Morrisons
5 Stanley Road M45 8QH
M45 8QH
8th April
Reigate Bell St Morrisons
Bell Street RH2 7BA
RH2 7BA
8th April
Leamington Spa Morrisons
Old Warwick Road CV31 3NT
CV31 3NT
8th April
Rotherham Parkgate Morrisons
Parkgate S60 1TG
S60 1TG
8th April
Wednesbury Holyhead Road Morrisons
239 Holyhead Road WS10 7BD
WS10 7BD
8th April
Sheffield Meadowhead Morrisons
84-130 Meadowhead S8 7UE
S8 7UE
8th April
Sheffield - Broomhill Morrisons
228-232 Fulwood Road, Broomhill S10 3BB
S10 3BB
8th April
St Helens Boundary Road Morrisons
Boundary Road WA10 2PX
WA10 2PX
8th April
Sidcup Westwood Lane Morrisons
1 Jenner Close DA14 6BF
DA14 6BF
8th April
Solihull Warwick Rd Morrisons
George Road B91 3BQ
B91 3BQ
8th April
St Albans Hatfield Rd Morrisons
244 Hatfield Road AL1 4SU
AL1 4SU
8th April
Sutton Cheam Road Morrisons
High Street SM1 1DD
SM1 1DD
8th April
Swindon - Dorcan Way Morrisons
Dorcan House, Eldene Drive SN3 3TX
SN3 3TX
8th April
Tamworth Marlborough Way Morrisons
Marlborough Way B77 2NY
B77 2NY
8th April
Tamworth Morrisons
Upper Gungate B79 7NU
B79 7NU
8th April
Mitcham Morrisons
St Marks Road CR4 2LF
CR4 2LF
8th April
London Southwark Morrisons
Walworth Road SE17 1JE
SE17 1JE
8th April
Wakefield Dewsbury Road Morrisons
Dewsbury Road WF2 9BY
WF2 9BY
8th April
Wakefield Ridings Centre Morrisons
The Ridings Centre WF1 1YA
WF1 1YA
8th April
London Wood Green Morrisons
199-201 High Road N22 6BH
N22 6BH
8th April
London Wimbledon Morrisons
51 The Broadway SW19 1QB
SW19 1QB
8th April
Wolverhampton Bilston Morrisons
Black Country Route WV14 0DZ
WV14 0DZ
8th April
Willenhall Morrisons
Wood Street WV13 1QG
WV13 1QG
8th April
Walsall Lichfield St Morrisons
Lichfield Street WS1 1SY
WS1 1SY
8th April
London Thamesmead Morrisons
2 Twin Tumps Way SE28 8RD
SE28 8RD
8th April
Barnsley Westway Morrisons
Off West Way S70 1LQ
S70 1LQ
8th April
Barnsley Brampton Morrisons
Corton Wood S73 0TB
S73 0TB
8th April
Warrington Greenalls Avenue Morrisons
Greenalls Avenue WA4 6RN
WA4 6RN
8th April
Darlington North Road
97 North Road
DL1 2PY
9th April
Blackburn Railway Road
Railway Road
BB1 5BE
9th April
Preston Riversway
Riversway
PR2 2YN
9th April
Rochdale Kingsway
285 Kingsway
OL16 4AT
9th April
Oldham Chadderton
Hollinwood Avenue
OL9 7LD
9th April
Lincoln Triton Road
Tritton Road
LN6 7QL
9th April
Milton Keynes - Westcroft
District Centre, 4 Barnsdale Dr, Westcroft,
MK9 1BL
9th April
Middlesbrough Berwick Hills
Berwick Hills Centre
TS3 7RP
9th April
Paisley Anchor Mills
Anchor Mills
PA1 1GZ
9th April
Gloucester Abbeydale
Heron Way
GL4 4FF
9th April
Livingston Almondvale Road
Almondvale Road
EH54 6GB
9th April
Cardiff
International Sports Village
CF11 0JP
9th April
St Andrews Largo Rd
45 Largo Road
KY16 8PJ
9th April
Stirling Munroe Rd
Munro Road
FK7 7SR
9th April
Harwood Lee Gate
Harwood
BL2 3HN
9th April
York Acomb
Front Street
YO24 3BZ
9th April
Cannock Mill St
Mill Street
WS11 0EE
9th April
Nantwich Station Rd
Station Road
CW5 5SB
9th April
Newcastle Under Lyme - Goose St
Goose Street
ST5 3HY
9th April
Redditch Warwick Highway
Warwick Highway
B98 0SW
9th April
Rubery Bristol Road South
Bristol Road
B45 9AH
9th April
Lowestoft Tower Rd
Tower Road
NR33 7NG
9th April
Folkestone Cheriton Rd
148 Cheriton Road
CT19 5JS
9th April
Cheltenham Up Hatherley
Up Hatherley
GL51 3BW
9th April
Plymouth Outland Rd
Outland Road
PL3 5UQ
9th April
Farnborough Southwood
Summit Avenue
GU14 0NA
9th April
Gosport Walpole Rd
15 Walpole Road
PO12 1NQ
9th April
Glasgow Crossmyloof
Crossmyloof
G41 4AA
9th April
Glasgow Partick
Partick
G11 6BB
9th April
Newport
Orb Drive
NP19 0XB
9th April
Wrexham
Ruthin Road
LL13 7TU
9th April
Bognor Regis Bedford St
Bedford Street
PO21 1QP
9th April
Fleet Elvethom Heath
Elvetham Heath
GU51 1ES
9th April
Wokingham Woosehill
Fernlea Drive
RG41 3SW
9th April
Cardiff
Newport Road
CF23 9UE
9th April
Mansfield Woodhouse
High Street, Woodhouse Centre
NG19 8AW
9th April
Brighton
5 St James Street
BN2 1RE
9th April
Chelmsford
Copperfield Way
CM1 4UX
9th April
Barrack Street, Glasgow
Gallowgate
G4 0TZ
9th April
Houghton Regis
Land between Queen St & High St
LU5 5BJ
9th April
Eastbourne
Lottbridge Drove
BN23 6QN
9th April
Lowestoft North Quay
12, North Quay Retail Park, Peto Way
NR32 2ED
9th April
Blaydon-On-Tyne
The Precinct, Wesley Court
NE21 5AF
9th April
Margate
Hawley Street
CT9 1PR
9th April
Glasgow Giffnock
38 Fenwick Road
G46 6AA
9th April
Newcastle UT Cowgate
200 Two Ball Lonnen
NE4 9SZ
9th April
Edinburgh Ferry Rd
102 Pilton Drive
EH5 2XS
9th April
Failsworth Poplar Street Morrisons
Poplar Street M35 0HY
M35 0HY
9th April
Openshaw Morrisons
Ashton Old Road, Fairfield Road M11 1DA
M11 1DA
9th April
Sheffield Hillsborough Morrisons
699 Penistone Road S6 2GY
S6 2GY
9th April
Leeds Merrion Centre Morrisons
Merrion Centre LS2 8PJ
LS2 8PJ
9th April