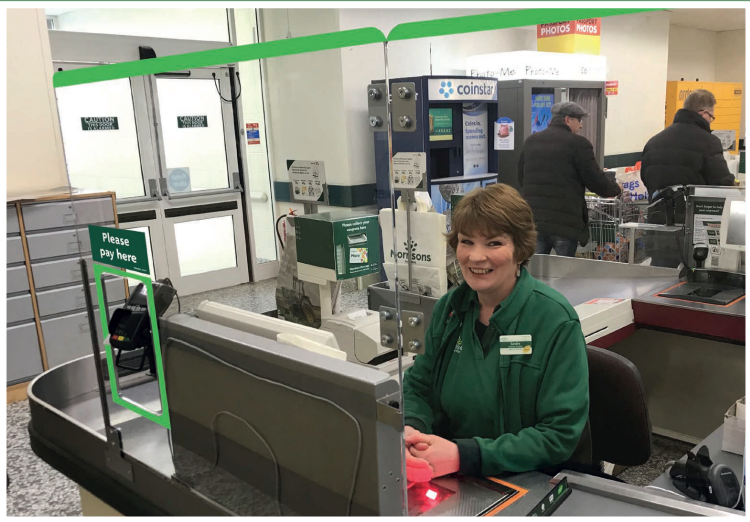 While doing our bit to feed the nation during this crisis, our primary concern is the health & safety of our key worker frontline colleagues
Our unique team of food makers and shopkeepers have been absolutely outstanding in responding to the unprecedented challenges of Covid-19. The whole nation, and especially Morrisons customers, are especially grateful for everything our colleagues are doing.
Morrisons promises to do all it can to protect all of our colleagues across our whole network of stores, manufacturing sites, depots and offices.
As soon as the crisis hit, we introduced some initial measures to: guarantee pay for sick and affected colleagues and allow more flexibility around shifts and annual leave; introduce hand sanitiser and other health & safety initiatives; clean our stores and sites thoroughly and very regularly; and, implement social distancing measures.
We are now doing more:
Personal protective equipment. We are doing all we can to ensure our colleagues' working environment is as safe and hygienic as possible:
In just ten days, we fitted transparent screens at every main bank checkout in virtually every one of our near-500 stores across the nation. These protect our colleagues and customers while paying for groceries at the tills.
We are also providing disposable gloves, more sanitiser and other hygiene initiatives to ensure our colleagues stay safe.
Social distancing. In close consultation with government and Public Health England, we have introduced a series of social distancing measures to protect our colleagues and customers:
A staggered entry system into all our stores, limiting the number of customers and colleagues inside at any one time to ensure social distancing. Our marshals at the front-of-store are there to make sure customers can get in as quickly and safely as possible. We would like to thank all our customers for their patience in adhering to these temporary measures, which are there to ensure the welfare of all customers and colleagues.
Reconfigured the flow of our stores, and introduced vinyl floor stickers and signage to ensure customers adhere to the social distancing guidelines while shopping and queueing. In addition, there are regular tannoy announcements to remind customers of the new rules.
Significantly reduced the number of colleagues at our head office, Hilmore House, with many working from home, or moving to support stores and other Morrisons sites. Fewer people in the office means safe social distancing there too.
Key worker status. As Morrisons colleagues help feed the nation, they have rightly been identified by government as key workers. We are issuing car stickers and making letters available on our internal website for all colleagues clarifying key worker status in case of interaction with the authorities.
- ENDS -