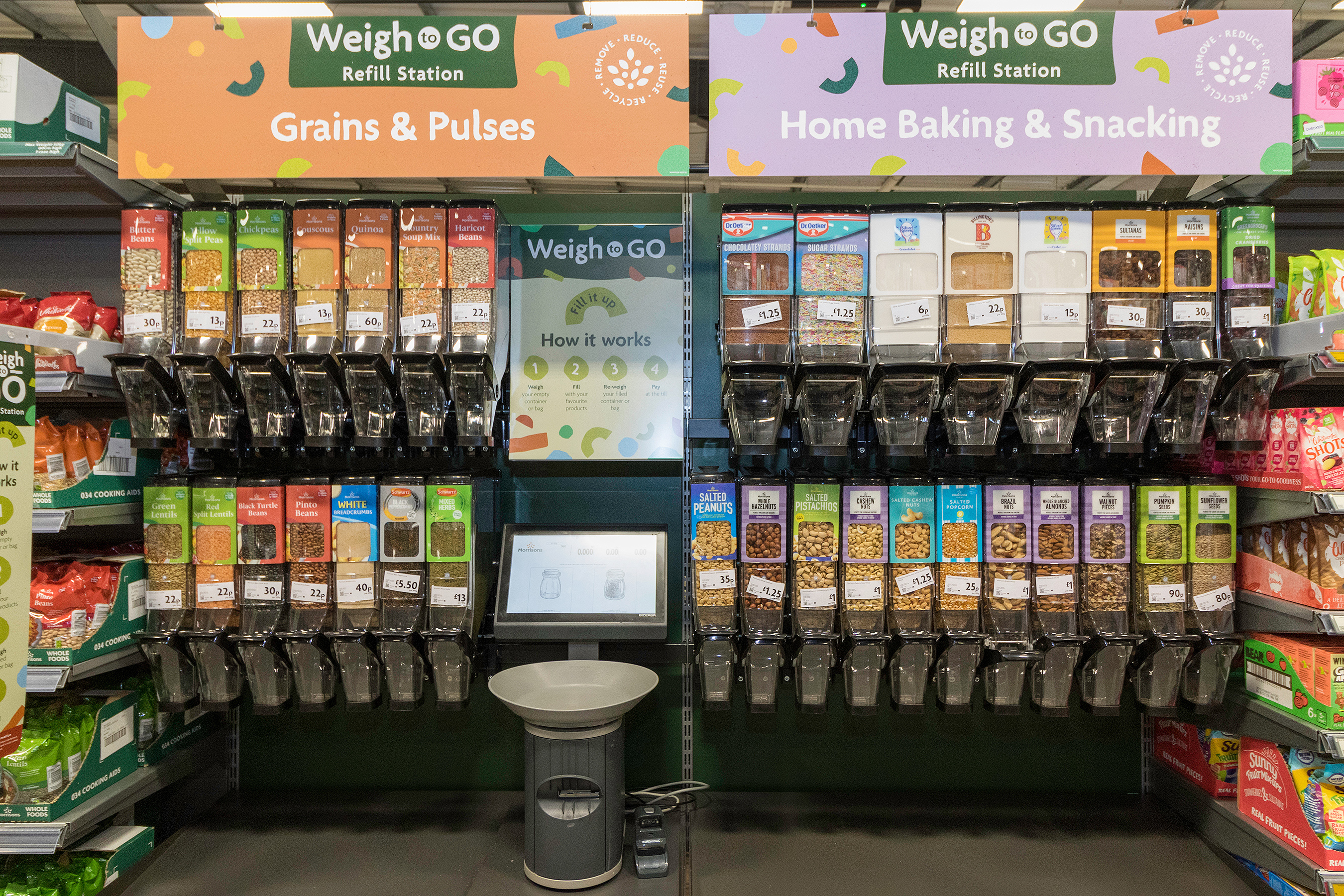 - It will use 43% less carbon, stock 366 loose products and will be almost zero waste, whilst quadrupling locally sourced products, increasing biodiversity schemes and community hours -
- All store initiatives have the potential to be scaled up and introduced across Morrisons stores - rather than being 'one offs' -
- Customers will be able to buy a range of loose products at no extra cost to their normal weekly shop -
Morrisons is today opening a lower environmental impact store in Little Clacton, the latest initiative on its journey to becoming a more sustainable business.
The new store design, which has been built from scratch, for the first time incorporates the widest range of Morrisons structural features and loose products to reduce carbon emissions, energy and resources - and limit its environmental footprint.
Innovations include 366 loose products, a low carbon impact building, next generation fridges powered by CO2 from agricultural waste, roof solar panels to provide a fifth of energy, rainwater harvesting for toilet flushing, a near zero waste back-of-house system, and facilities to recycle customers' waste.
In addition to low impact design and decreased packaging and waste, the store also offers a significant number of locally sourced products, a range of biodiversity schemes, more healthy and nutritious foods, and more support to the local community.
All of the store's practical initiatives and designs have the genuine potential to be scaled up and introduced across the Morrisons store estate - rather than being one offs.
The store will house Morrisons widest range of no plastic products - priced the same or less than their standard equivalents - allowing customers to half the amount of plastic in their weekly shop, along with a range of local and eco product options.
David Potts, CEO of Morrisons, said: "This store is a significant step forward on our sustainability journey. It brings together all of the environmental and social initiatives we have created that can be rolled out into other stores across the country. It will start to inform the design of many more similar stores to come."
The Little Clacton store will have 43% lower operational emissions than a standard store. Aligned with the Government's plan to increase renewable energy, it will generate its own power and move away from gas. Carbon reduction is achieved through:
No gas supply and instead only using electricity
Solar panels installed on the roof, providing nearly 20% of its energy
Air source heat pumps using waste heat from fridges to heat the store and its hot water
Next Generation Fridges using CO2 from agricultural waste instead of harmful HFCs
'EcoBlades' fitted to fridge shelves, to trap cold air inside and reduce energy use
Exclusive operation of electric morrisons.com delivery vehicles
20 EV charging stations for customers along with dedicated EV stations for colleagues' cars, with charging speeds from 15 minutes to eight hours.
The store will stock 366 loose products with no plastic packaging, including:
70 products in refill hoppers - including pasta, coffee, home baking, pulses and herbs, as well as refillable household cleaning products and 11 'naked' and refillable health and beauty products
76 types of fruit and veg
A loose bakery with 57 plastic free breads and buns
A 18-strong frozen loose fruit, bread and pastry pick and mix section
14 'loose' pet foods
Plastic-free shopping for over 110 products at the meat, fish, deli counters using refillable containers
Milk sold only in Tetra Pack, plastic packaging being removed around multi-pack cans, and water being sold in boxes and cans.
The store will also stock a very wide range of locally sourced products from local farmers, growers and foodmakers - to help the local economy and keep food miles to a minimum. They have been sourced as part of Morrisons Nation's Local Foodmakers programme, which searches for locally known and loved food and drinks. Over 250 local beers, spirits, fruits, vegetables, eggs, pies, breads, jams, teas, sauces, biscuits and crisps will be supplied from less than 35 miles away, against an average of 50 lines in Morrisons regular stores South East stores. The store will also be the first to trial Morrisons carbon neutral eggs.
Morrisons Little Clacton store will be almost zero waste and the store will offer customers the ability to return their waste. It will offer a wide range of recycling points for soft plastics, batteries, ink cartridges, cartons, glass and textiles so customers can recycle their hard-to-recycle items. The store's back-of-house will recycle waste - to minimise what is sent to landfill. The Little Clacton store will also offer Too Good To Go 'Magic Bags' - where customers can get £10 of fruit, veg, deli and bakery products for just £3.09 - to prevent food waste.
In its environmental construction, Morrisons Little Clacton has recycled 99% of the demolition materials from its old store in new builds, and reused and reduced steel to lower carbon emissions by 52%. Special car park tarmac has been used to offer a carbon saving of up to 25%. A rainwater harvesting system will be used to flush the store's toilets and reduce virgin water use of nearly 600,000 litres a year. Outside the store, a wildlife area has been created in the grounds of the store to offer a home for birds, insects and small animals.
To help support the local community, a Community Champion will be employed and 2,000 hours a year dedicated to local causes. The store will also comply with forthcoming Government regulation related to high fat, sugar and salt - and will stock Morrisons Nourish range of healthier food, Counted range of calorie-controlled alternatives, along with front-of-pack traffic light and Healthier Living icon product labels. A Plant Revolution range will also be stocked to make plant based products more accessible to customers, along with 240 entry level price products to provide customers with affordable food they can trust.
Morrisons has committed to a range of environmental targets for carbon, plastic and waste. It plans to become net zero for operational emissions by 2035, in line with the international Paris Agreement, has committed to a 50 per cent reduction across its own brand primary plastic packaging by 2025, and aims to recycle all of the waste it creates by 2025.