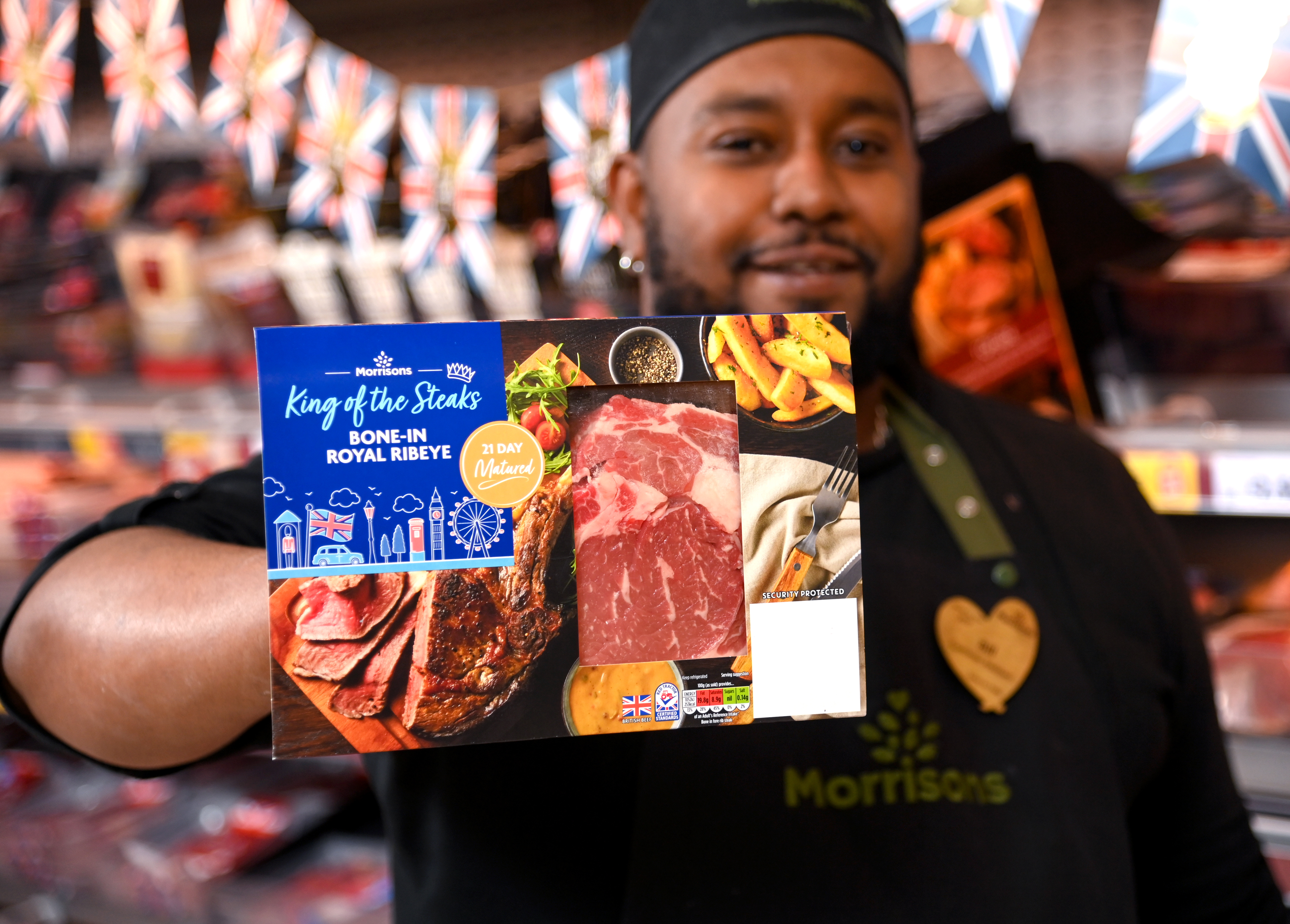 – New King Ribeye Steak costs £19.99/kg and The King Ribs is just £15 for 1.2kg –
– The King Ribeye Steak is up to five times larger than an average ribeye steak –
– Available in-store and online from tomorrow for a limited time only –
Morrisons is raising the steaks for the King's Coronation, with the launch of its new limited-edition 'King Ribeye Steak' and 'King Ribs'. Weighing in at a whopping 1.2kg each, the meaty treats are the perfect centrepieces for royal feasting to celebrate King Charles.
The new King Ribeye Steak costs £19.99/kg and serves 2 people, allowing customers to enjoy a taste of luxury without the royal price tag. It is up to five times larger than an average ribeye steak and is sourced by Morrisons from quality British cattle. The meat is then matured for 21 days, and hand trimmed by Morrisons butchers for a rich, meaty flavour and melt-in-the mouth taste.
Customers can also get their hands on the XL 'King of Ribs' for the ultimate regal banquet. Weighing a whopping 1.2kg and priced at £15, the giant oak smoked pork belly ribs are accompanied with a sachet of sweet and tangy bramley apple BBQ sauce, to pack a flavour punch.
Dom Tetley, Morrisons Beef Buying Manager, says: "We're thrilled to launch this limited-edition extra-large meat range especially for King Charles' Coronation. We know customers will love the King of Ribs and the King Ribeye Steak and hope they bring families together across the UK for a delicious feast".
Customers will have to be quick! The limited-edition range will be available in-stores nationwide, with King Ribeye Steak launching on 1st May and King Ribs on 3rd May until 7th May, whilst stocks last.