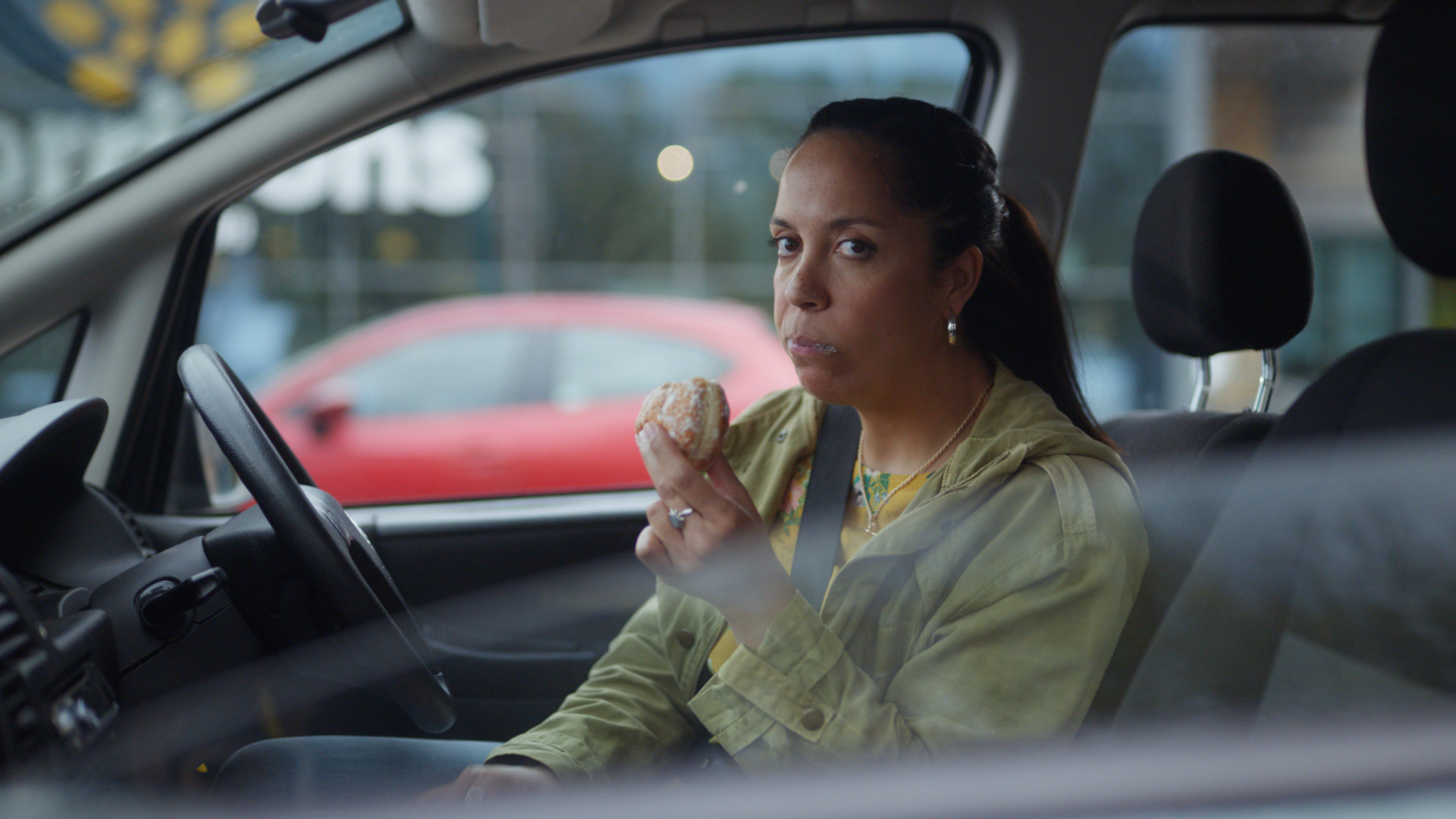 - New brand campaign "More Reasons To Shop At Morrisons" with rework of iconic jingle debuts on Coronation Street tonight -
- Morrisons More Card launches nationwide with the return of Morrisons Fivers -
- Points are back and can be earned on selected products and fuel -
Morrisons is bringing back "More Reasons To Shop At Morrisons" including a rework of the iconic jingle. Created with Leo Burnett, the major new advertising and brand campaign debuts tonight on Coronation Street. It will celebrate the real and motivating reasons why customers choose Morrisons, in a funny and relatable way.
Following research* into Morrisons distinctive brand assets, the campaign will see the return of the "More Reasons To Shop At Morrisons" strapline, which was introduced in Sir Ken Morrison's time and still resonates strongly with consumers despite last being used in 2006.
The "More Reasons To Shop At Morrisons" jingle also showed a very high level of brand recall and salience in the research and so it has been refreshed with a modern twist, while retaining all the familiarity and nostalgia of the much-loved original. The visual identity, including the green and yellow colour duo and tree logo also remains central to the new campaign after performing strongly in the research.
At the heart of the campaign, a series of seven 20" adverts focus on a different 'reason' to shop at Morrisons in a vox-pop and humorous style, direct to camera. The down to earth and unmistakably British films all end with the catchy new jingle and highlight Morrisons Market Street counters such as the freshly-baked doughnuts, the 100% British meat sold on Morrisons butcher counters, the fresh produce, the 'iconic' salad bar and the popular café.
A further 'reason' is the new More Card loyalty programme which can be used as a physical card or app and has been trialled in a number of stores over the last few weeks. Customers will now be able to earn points on selected products and counters in store and online as well as earning five points for every litre of fuel purchased in a Morrisons petrol filling station**. Once a customer has saved 5,000 points, they will receive a Morrisons Fiver which can be redeemed on a future shop, in store or online. Morrisons programme of market leading exclusive offers which launched last October for loyalty card members remains a key feature of the new scheme.
Rachel Eyre, Chief Customer and Marketing Officer at Morrisons, said: "Alongside the launch of the new loyalty programme, we are also excited to announce our new brand campaign, "More Reasons To Shop at Morrisons". Customers tell us there are so many distinctive and motivating reasons to choose Morrisons, such as helpful tips from our expert butchers and fishmongers, our commitment to British meat and produce or fan-favourite freshly baked doughnuts, and so despite not being used for a long time, "More Reasons" still really resonates.
"We've brought it back in a major new campaign which has had marketing effectiveness front and centre throughout the whole planning and development process, across creative and media. The result is a campaign which celebrates customers' real reasons for choosing Morrisons, in a funny and relatable way. And yes - even the iconic jingle is back!"
Mark Elwood, Executive Creative Director at Leo Burnett, said: "I'm so excited about this brand campaign. "More reasons to shop at Morrisons" and the accompanying 'jingle' are both iconic. Bringing back both for a new audience is a total pleasure, with a new brand identity to boot. This campaign highlights the real reasons that our customers shop at Morrisons, time and time again. It's a funny human campaign that will hopefully be something that resonates with the nation."
The adverts were directed by Tom Speers of Smuggler and will feature on network TV spots that include Coronation Street, Emmerdale and Britain's Got Talent. In addition, and in partnership with ITV, the broadcaster's continuity announcer will be adding a note on how much they love the jingle to their regular update on scheduling across the weekend of 27th May.
The wider campaign will run across TV, radio, press, digital display, social media and out of home as well as in Morrisons stores and online, with media planning and buying led by Wavemaker.
Sian Runnacles, Client Managing Director at Wavemaker UK, said: "More reasons to shop at Morrisons" ran for nearly 20 years, it captured everything that made Morrisons so distinctive. We're extremely excited to be bringing it back, celebrating all the reasons why customers across the UK love what Morrisons has to offer. We're creating a grand entrance for its return, whilst ensuring the length and breadth of Britain get a deeper understanding of what makes Morrisons great."
Kickstarting on launch day, an advertising roadblock will ensure everyone 'catches' the jingle. Featuring channel takeovers of The Global Traffic Network, the Daily Mail, and Twitter, the campaign will reach nearly 50% of the UK within the first 24 hours.
* Research conducted by Mountain View in 2022
** Excluding franchise petrol stations.
- ENDS -
Further information:
For more information, images and interview requests please contact the Morrisons PR team ​on pressoffice@morrisonsplc.co.uk / 0345 877 8778.
Examples of points available this week include:
100 More Points for every five pack of doughnuts (89p)
500 More Points for every £5 spent at the pizza counter
600 More Points for every £6 spent in a Morrisons café
100 More Points for every British BBQ meat pack from the butcher's counter.
The More Card Exclusives in launch week include:
1 litre Spirits for £17
Nescafé Gold 300g and Nescafé Original 200g for £4.99
Pringles for £1.25
Cathedral City Cheese 350g for £3.00
Fish Friday - 20% off fresh fish from the Market Street fish counter each Friday
Steak Saturdays - 20% of British steaks from the Market Street butcher's counter each Saturday.
Card users will be sent a new card while app users will need to update their My Morrisons app to access the new Morrisons More app and benefit from the improved look and feel of the app and simpler navigation.
CREDITS
CAMPAIGN TITLE: More Reasons to shop at Morrisons
CLIENT: Morrisons
ADVERTISING AGENCY: Leo Burnett
CCO: Chaka Sobhani
EXECUTIVE CREATIVE DIRECTOR: Mark Elwood
CREATIVE DIRECTORS: Andrew Long, James Millers
CREATIVES: Gareth Butters, Josh Merriam, Chanelle Merriam, Gina Ramsden, Freya Purnell
CREATIVE DIRECTOR OF DESIGN: Dave Allen
DESIGNERS: Rupert Knowlden, Harry Ingram, Roxana Iricuic, Richard Pettiford
STRATEGY DIRECTOR: Joe Beveridge
SOCIAL STRATEGIST: Benjamin Obadia
BUSINESS LEAD: Ruth Stasiak
ACCOUNT DIRECTOR: Sophie Garrett
ACCOUNT MANAGER: Carys Parry
PROJECT MANAGEMENT: Danny Wallace, Jamie Teale
AGENCY PRODUCER: Anna Cartwright
PRINT PRODUCER: Jo Hodge
MEDIA BUYING AGENCY: Wavemaker
MEDIA PLANNER: Richard Bartlett
PRODUCTION COMPANY: Smuggler
DIRECTOR: Tom Speers
EDITOR: Eve Ashwell
PRODUCER: Tarquin Glass
POST-PRODUCTION COMPANY: Black Kite
AUDIO POST-PRODUCTION COMPANY: String & Tins
PHOTOGRAPHER: Dan Jones