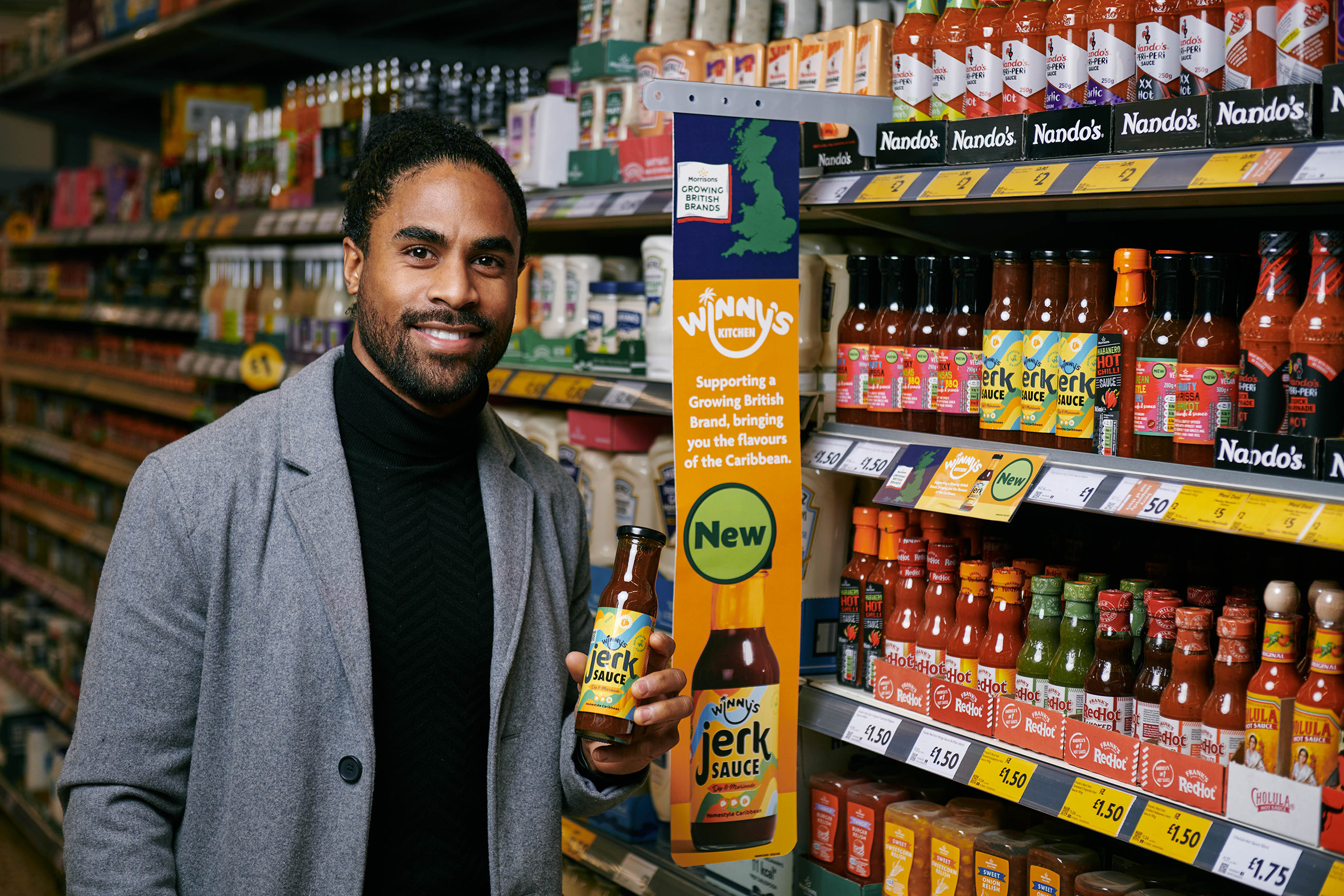 – Over 1,000 British brands have now applied to supply Morrisons after CEO David Potts launched our Growing British Brands programme –
Morrisons can today announce that over 1,000 food and drink companies have applied to our Growing British Brands programme since its launch in May.
Winny's Kitchen is the latest brand to launch with us in a landmark moment for the Birmingham-based business. Its Jerk Sauce is available in Morrisons condiment aisle now at an introductory offer of £1.50.
Winny's Jerk Sauce is born from an authentic Jamaican family recipe with head chef Johari the secret ingredient behind it. The sauce is made with natural ingredients, in small batches with heart and soul bringing flavour to mealtimes across the UK.
The sauce is versatile and works as a marinade before cooking, a glaze for meat, fish or vegetables or simply as a sauce to give an extra kick of Caribbean flavour. Winny's Jerk Sauce is vegan and gluten free.
In May 2021, Morrisons offered British entrepreneurs a fast-tracked route to a national market through the launch of our Growing British Brands programme. It gives emerging British businesses the potential to sell products in our stores as well as listings in other parts of the business including Morrisons.com and wholesale channels like Amazon.
To support successful applicants we've assembled a team of our in-house experts to help with advice and support covering every aspect of retailing, from production to packaging and marketing and logistics.
Darren Smith, Senior Sourcing Manager at Morrisons, said: "We're a huge supporter of British food making but we know that getting an idea to market can be a complicated process and some companies need some help to get there. Through our Growing British Brands programme we have been able to spot exciting brands like Winny's Kitchen and its delicious Jerk Sauce. We're really excited to see it now launch in our stores and we look forward to continuing to support Shaun and the team over the coming months."
Shaun Sookoo, Winny's Kitchen CEO, said: "From starting our food brand which was inspired by my mum's cooking to bringing it to the shelves at Morrisons stores around the UK, the journey has been an exciting one and we're grateful for the Growing British Brands programme which has given us a unique opportunity. Morrisons has helped us with expert advice to get our brand ready for national expansion meaning Winny's Jerk Sauce is available at Morrisons stores around the UK. We can't wait to see what comes next!"
Entrepreneurs with products ranging from food and drink to beauty and homewares can apply to the Growing British Brands programme by clicking on the 'Supplying Morrisons' link at morrisons-corporate.com/suppliers.