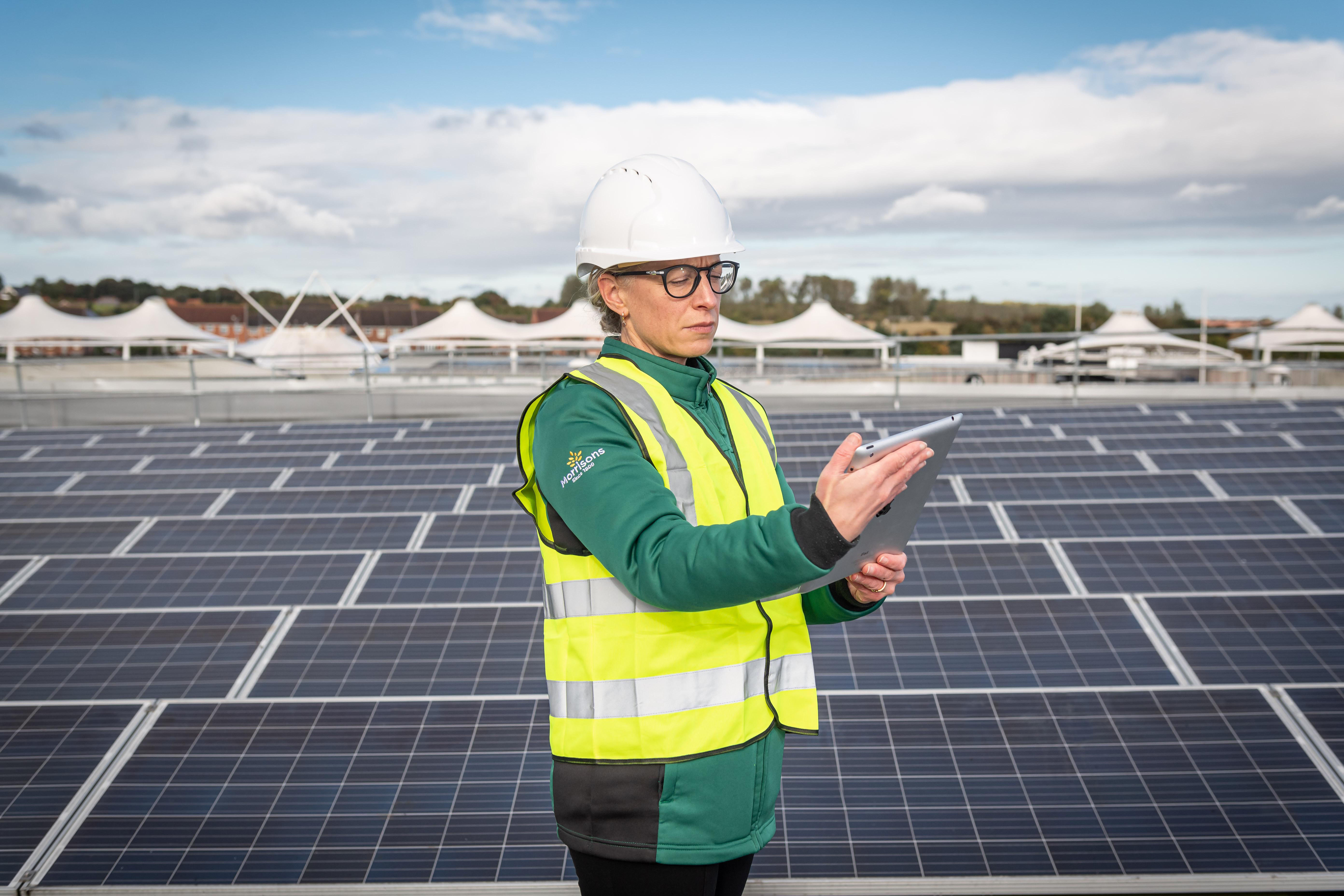 - It will become the first supermarket to own and operate its own solar 'farm' across sites and stores -

Morrisons has brought forward its commitment to be net zero carbon emissions from its own operations by 2035, five years earlier than initially pledged and 15 years ahead of the UK government target*.
Morrisons is also committing to reducing its wider 'Scope 3' emissions across its entire own brand supply chain - by 30 per cent by 2030 and is already working with suppliers to support them in this.
Morrisons is ahead of forecast in reducing its operational carbon emissions. A 33 per cent cut in carbon emissions was promised by 2025, and the current reduction has already reached 32 per cent - saving almost 300,000 tonnes of CO2 since 2017.
Future carbon reductions will be achieved by: being directly supplied by 'net zero' carbon British farms; reducing energy and using renewable energy; using low carbon vehicles and offering EV charging; reducing food waste and food miles and ensuring zero deforestation in its supply chains. It also plans to help its suppliers audit and reduce their CO2 emissions. Morrisons has a strong carbon reduction plan, rather than relying heavily on offsetting.
As part of its carbon reduction plan Morrisons will become the first supermarket to own and operate its own solar 'farm' across sites and stores**. The 'farm' will become the latest addition to Morrisons sites and infrastructure giving increased control over its operations and costs. Morrisons currently owns 18 food-making facilities across the country.
Almost all of the power generated from the solar panels will be channelled straight into Morrisons stores and sites, rather than going into the national grid. The green energy will supply Morrisons store appliances that require the most energy, like fridges and freezers.
David Potts, CEO at Morrisons, said: "The climate crisis is the greatest challenge of our generation - and the time is now. As a supermarket we depend on a healthy planet to produce the goods we sell to customers.
"We've committed to removing carbon emissions, rather than setting a carbon neutral target that would depend heavily on offsetting. We're also investing resources to bring forward our net zero commitment by five years which is very ambitious but very necessary. Our new solar farm and net zero carbon agriculture programme are just two ways we'll achieve our commitment."
Hugh Jones, Managing Director - Advisory, at the Carbon Trust said: "By aligning its goals with a 1.5°C future Morrisons is ensuring it builds resilience firmly into its business model and will be positioned to thrive as the global economy moves to zero emissions."
Morrisons is supportive of the UN's Sustainable Development Goals which aim to end poverty, fight inequalities and tackle climate change globally by 2030. The company is a signatory to the British Retail Consortium's Climate Change Roadmap to limit global warming to 1.5 degrees - in line with the highest ambition of the international Paris Agreement - to limit temperature rises to 1.5 degrees above pre-industrial levels.
Morrisons has worked with the Carbon Trust to measure its emissions and set science-based carbon reduction targets*. It is also working with the Science Based Targets initiative (SBTi) on the approval of its 'Scope 3' targets. It will report on progress every year.
- ENDS -
* On Scope 1 and 2 emissions Morrisons is making the move to help limit global warming to 1.5 degrees, in line with the highest ambition of the international Paris Agreement - to limit temperature rises to 1.5 degrees above pre-industrial levels. Morrisons Scope 3 emissions will follow a well below 2 degrees pathway.
** By end 2021, 6,964,242 kwh is planned to be saved over three manufacturing sites and 18 retail sites, with the ambition to install more solar panels in future years.
Morrisons carbon reduction achievements & plans

Renewable Energy: We are harnessing renewable energy to power our sites
- We will be the first supermarket to own and operate our own solar 'farm' and have already installed over 5 megawatts of solar power on 37 of our sites.
- We are investing in heat pumps to warm our stores and sites.
- We are working on a five year plan to buy and use renewable energy.
Energy Saving: We are saving energy at our stores and sites
- We have introduced new fridge technology in 260 stores which draws cold air back into our fridges to reduce energy consumption.
- A number of our stores now have fridges and freezers fitted with doors to reduce energy consumption. This is providing 30-40% energy savings.
- We are currently switching to refrigerants with CO2 made from natural 'green' waste.
- We are continuing to invest in LED lighting and controlled voltage in stores to reduce power demand.
- We have reduced our gas consumption through a boiler replacement programme in all of our sites and stores alongside control upgrades to improve our ability to monitor and control remotely.
- We are installing 'heat harvest' technology which uses heat from our refrigeration to provide hot water in store.
- We have launched a 'Switch off and Save' energy saving scheme, to save £5m of power from being used.
Transport: We are lowering the impact of our transport
- We carefully plan our supply chain routes to reduce road miles and empty running.
- We are increasing our double decker journeys to reduce the number of lorries on the road.
- We have undertaken driver training and are now using a telematics system to reduce harsh braking, acceleration and engine idling time.
- We are introducing a new lightweight fleet of morrisons.com vehicles which use 10-25% less fuel.
- We have introduced a fleet of electric vehicles to run our Doorstep Deliveries at each of our stores.
- We are trialling the first electric truck early next year which has zero emissions.
- We are introducing Compress Natural Gas (CNG) into 2 of our depots servicing approximately 120 of our stores.
- We are trialling the use of solar panels to power refrigeration on our chilled trucks this year.
- We use low friction tyres on all of our HGV's.
Fuel: We are installing EV charging for our customers
- We've installed over 220 'next generation' rapid electric charging points across our stores nationwide so that customers can charge their electric cars - from flat to full battery in under 45 minutes.
Food Waste: We are reducing our operational food waste
- We have already reduced our operational food waste in stores by 13%, and we'll achieve a 50% reduction by 2030 (against a 2016 baseline).
- We take great care to order what we think we can sell, but where surplus food does arise we work with a range of partners to redistribute it within our communities.
- Where products are close to their Use By or Best Before date, we offer them at reduced prices to our customers.
- We launched our Naturally Wonky range in 2015 and now offer 51 varieties of fruit and vegetables, which might be misshapen, have skin blemishes or growth cracks or are much smaller or larger than average. The range helps keep food waste to a minimum in the field, gives farmers a route to market, and offers customers affordable produce.
Food donations: We are redistributing surplus food to good causes
- We have sold over 400,000 Too Good to Go 'Magic Bags' through the app which gives customers access to high quality products at a fraction of the price. Each bag is sold for £3.09 and contains a variety of fresh products which would normally retail at £10.
- Through our unsold food programme our stores are empowered to give surplus food to local causes, such as food banks. In 2020 we have redistributed 3 million products.
- Our manufacturing sites and distribution centres work with a range of organisations including Fareshare, Company Shop and The Bread and Butter Thing to redistribute surplus food to where it is needed most in communities. In 2020 we redistributed over 6 million meals.
Zero deforestation: We will have zero deforestation in 'forest risk commodity' supply chains by 2025, including both palm oil and soya
- All palm oil sourced through a sustainably certified supply chain system (Roundtable on Sustainable Palm Oil).
- All soy - used as an ingredient and for animal feeds - certified to a Morrisons recognised standard that assures zero deforestation.
- Timber used in Morrisons own brand products will be sourced from sustainably assured forests.
Sourcing British: We are playing our full part in growing and developing British agriculture, fishing and food production to strengthen the nation's food security and to reduce food miles
- We are British farming's biggest customer. When in season and when available, we will always buy British first.
- We work as a team with the farming industry, buying directly from over 3,000 farmers and growers.
- We offer the broadest range of fresh British seafood of any supermarket.
- We own seafood sites in Grimsby and Cornwall, buy direct from over 70 boats, and 80 percent of our fish and shellfish comes from our own seafood operations.
- We want to provide our customers with a bigger portion of food and drink that is sourced from Local & British producers and foodmakers.
- Our Growing British Brands programme searches for challenger and innovator brands, who are looking to disrupt the category they operate in, and who are ready to scale up their business with Morrisons.
- Our Nation's Local Foodmakers programme searches for local food and drink makers of known and locally loved products which are supplied direct to our nearest store, or stores across their region. Working with suppliers on this programme helps support local communities - and their local economies - whilst providing small business new opportunities to grow their business.
- We also have our own sites making meat, fruit & veg, fish, bakery and fresh food products – 18 in all – and are unique in preparing and making more than half of the fresh food sold in our stores.
Net Zero Agriculture: We'll be the first supermarket to be directly supplied by 'net zero' carbon British farms by 2030
- We have pledged to be the first supermarket to be directly supplied by 'net zero' carbon British farms by 2030, five years ahead of the market.
- Net Zero products will be sourced directly from our British farmers into our food making sites for own brand products. They will include beef, pork, lamb, potatoes and eggs.
- We are launching the world's first School of Sustainable Farming with Harper Adams University, the NFU and McDonalds to prepare farmers for the future and work with them to achieve net zero farming methods.
Water consumption
- We are introducing water metres across all of our sites.