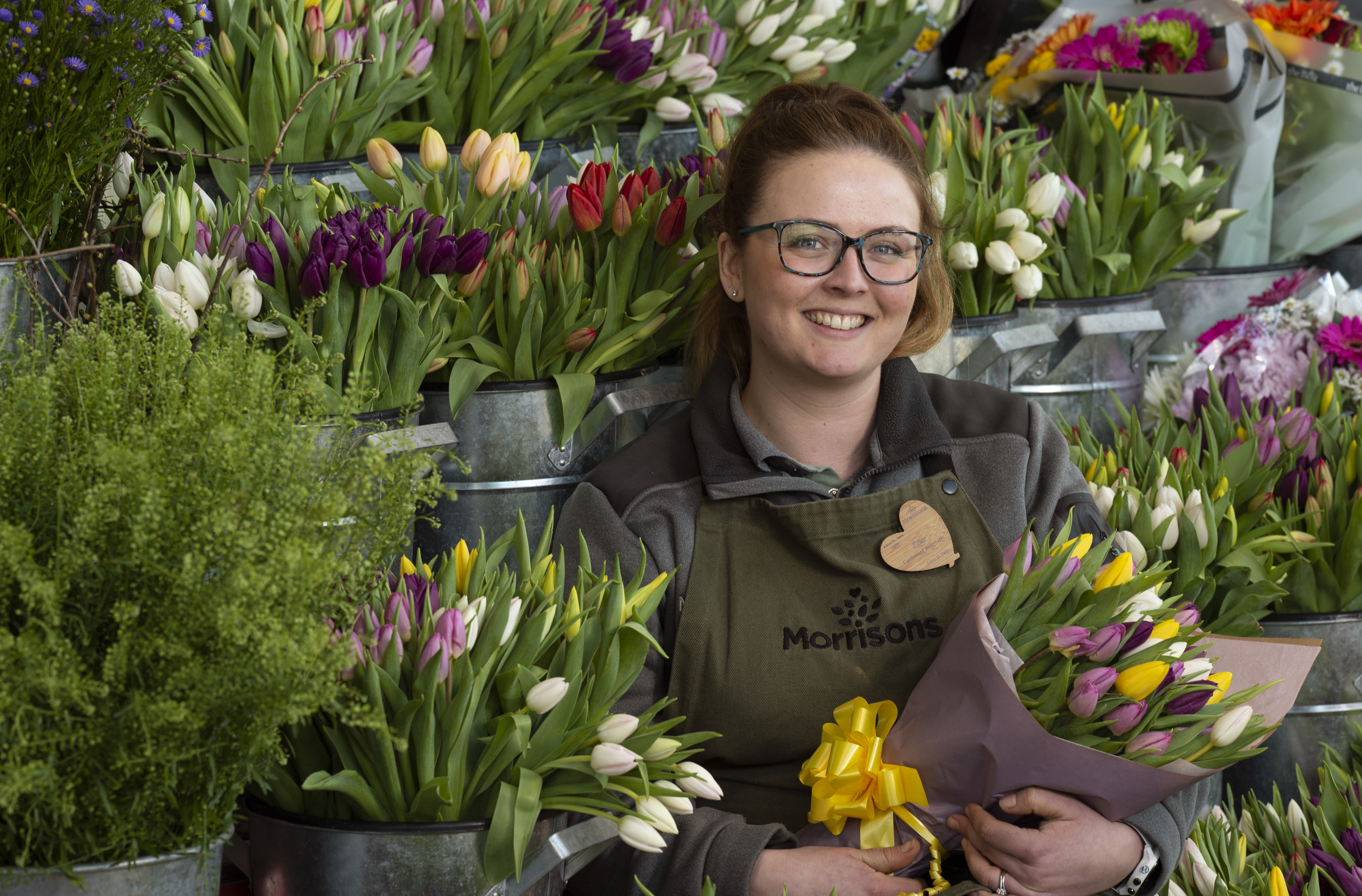 - Customers expected to buy almost 1.2 million British tulips from Morrisons ahead of Mother's Day -
- Morrisons 'The Best' Tulip bouquets, specially crafted by hand, offer 18 stems for just £8 -
This Mother's Day Morrisons is committed to selling tulips only grown in British nurseries, to provide the freshest and highest quality bunches for its customers.
Morrisons British tulip range features a specially handcrafted 'The Best' Tulip bouquet for £8 which contains 18 stunning individual tulip stems in sugary sweet shades of pink, yellow and white. For those looking for more pocket money friendly options there are also eight stems for £3.49 (or two bunches for £6) and 12 stems for £5.
The tulips are available in all of Morrisons 499 stores, alongside a wide selection of different floral arrangements to treat mum. Prices range from just £2 for two bunches of seasonal daffodils, to £20 for a more luxurious arrangement of 'The Best' roses in shades of white, pink and red combined with striking, fragrant lilies.
Morrisons also has 192 florist stations in stores across the UK, where 300 skilled florists offer a 'create your own' bouquet service. In those stores, customers can choose from over 75 different stems to make a hand-tied bouquet as unique and special as the mum or inspirational woman in their lives. The bespoke bouquets can be crafted for any occasion and to any budget whilst customers do their grocery shop.
Rob Hofmann, floristry buying manager at Morrisons, said: "Being one of the UK's biggest florists, we are always looking to provide our customers with fresh, beautiful blooms whilst supporting our British growers. Mother's Day is a huge flower ordering occasion and we are proud to offer a wide variety of bouquets and stems that are handmade by our expert florists in store."
Morrisons offers a five-day freshness guarantee for all its flowers in the home and has one of the quickest 'field to store' transit times. Stems are delivered fresh to stores each day and sourced from FlowerWorld - a 17.5 acre flower site in Derby, wholly owned by Morrisons.
To place an order or find the nearest Morrisons florist, visit www.morrisons.co.uk.

- ENDS -
About Morrisons:
Headquartered in Bradford since 1899, Morrisons is a British food retailer with around 110,000 colleagues in 499 Morrisons supermarkets and around 1,100 Morrisons Daily and McColl's convenience stores.
We are British farming's single biggest direct customer and all Morrisons-branded fresh meat and everything on our butchers' counters is 100% British. Foodmakers and shopkeepers are at the heart of everything we do and our 6,500 trained butchers, bakers, fishmongers, cheesemongers, florists and other skilled in-store specialists make good things happen every day.
We have our own sites making meat, fruit & veg, fish, bakery and fresh food products – 19 in all – and are unique in preparing and making more than half of the fresh food sold in our stores.
We also offer popular services including cafés, pharmacies, dry cleaners and over 300 petrol stations with further services being added all the time.