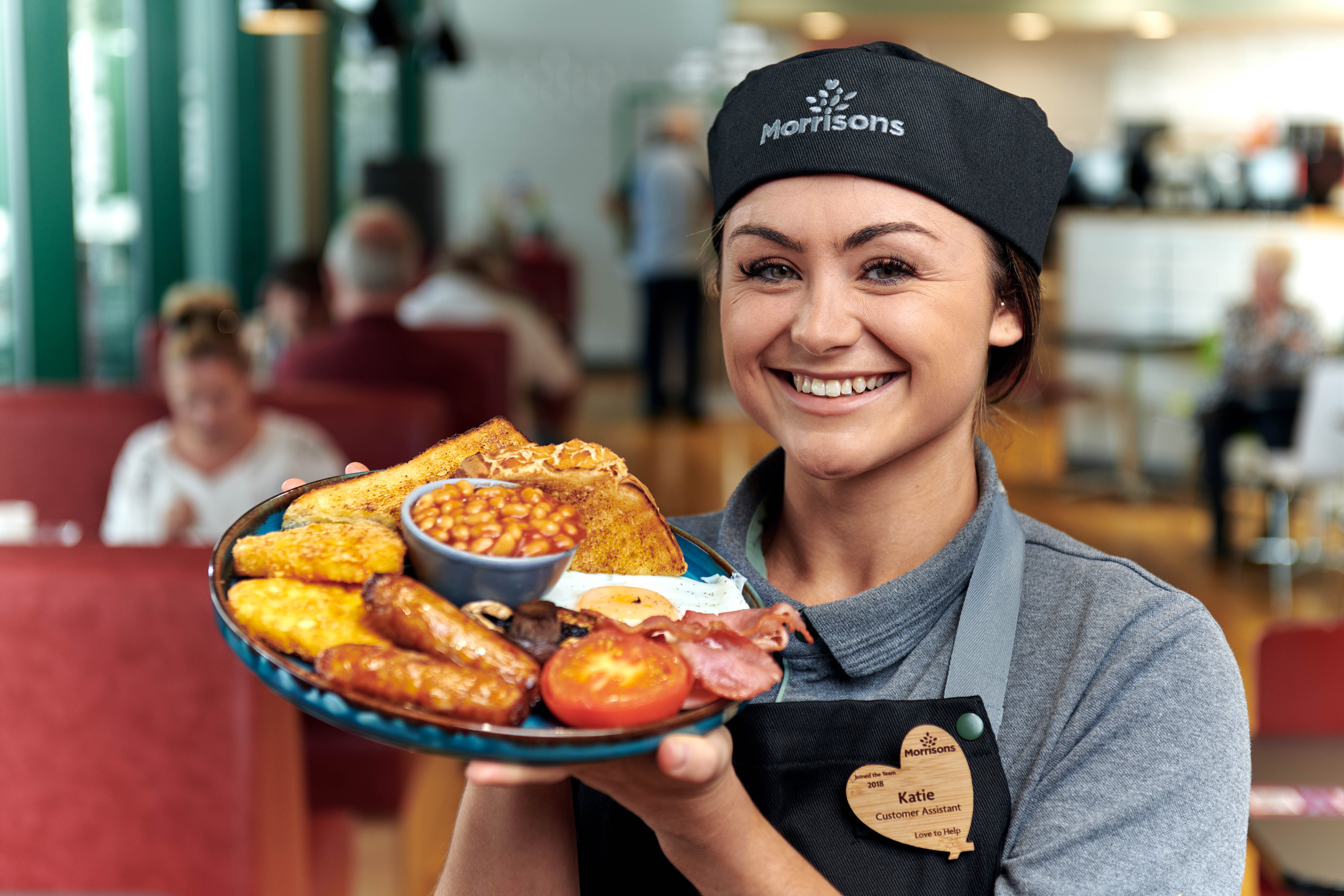 - Half-priced Full Breakfasts available in Morrisons cafés all week -
Morrisons has slashed the price of its café fry-up in half to ensure fans are full of energy to soak up every minute of footballing action for a slice of the price.
Customers can enjoy 50 per cent off the full 11-piece fry up all day every day this week to keep them fuelled for all matches which include England and Wales' two opening fixtures against Iran and USA.
Fans will have a reason to celebrate before games kick off as the Full Breakfast offers two sausages, two bacon rashers, a fried egg, a flat mushroom, half a tomato, a hash brown, Heinz baked beans and toast for just £2.99 - a price hard to beat at any other well-known chain including Wetherspoons and Harvester, or any supermarket café.
Vegetarian and vegan options which come with veggie sausages and sliced avocado are also available. In Scotland, the Scottish Breakfast comes with two lorne sausages, two bacon rashers, a fried egg, a flat mushroom and half a tomato, two tattie scones, Heinz Baked Beanz and a slice of toast.
Football and the Morrisons breakfast can come home this winter as the meal is available for takeaway and delivery options for those that prefer to dine in the comfort of their own home and don't want to miss a second of the action.
Morrisons also recently permanently reduced the price of over half the hot dishes in its cafés including fish & chips which is now £6.99 and burgers served with chips and coleslaw for £5.99.
A Christmas menu is now available to kickstart the season of festive feasting and customers can tuck into a two-course meal for £9.99 or three courses for £11.99 from 11.30am to 3.30pm each day.
Michael Weightman, Head of Morrisons Cafés, says: "Our breakfasts are a customer favourite and we're helping celebrate the start of the tournament by halving the price. We hope there will be a lot to cheer about in the coming days with football and our breakfasts ensuring fans get their days off to a flying start!"
Morrisons half-price breakfast offer will be available in its 397 cafés nationwide all day every day from Monday 21st November until Sunday 27th November.
For more information and to find your nearest café visit: https://my.morrisons.com/blog/food/new-cafe-menu/