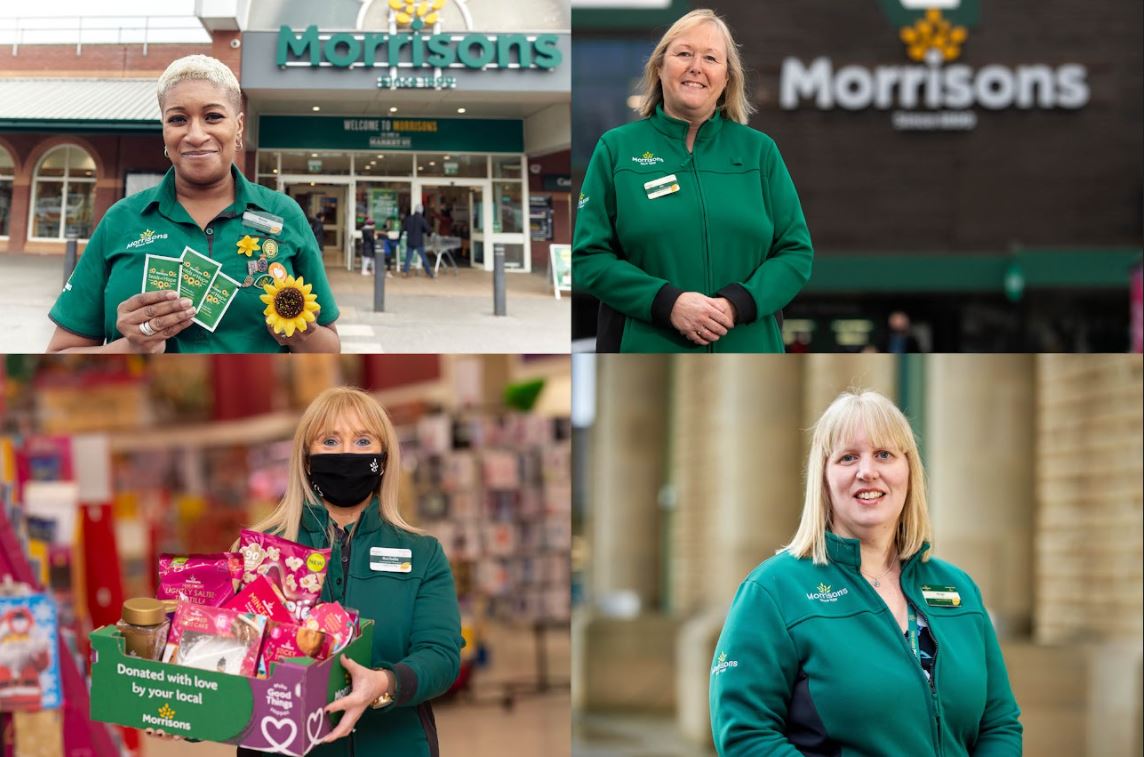 - Morrisons Supply Chain Manager Angela Johnson honoured with Member Of The Order Of The British Empire for her work ensuring food supply to Gibraltar post-Brexit -
- Rose Morgan, Alison Whitburn and Rochelle Gardner awarded British Empire Medal for their tireless efforts to support their local communities throughout the Covid-19 pandemic -
Four Morrisons colleagues are among those recognised in the Queen's New Years Honours List, for their tireless work to support others throughout a very difficult year.
The deserving recipients include Morrisons Supply Chain Manager, Angela Johnson, who has been awarded a Member of the Order of the British Empire Medal (MBE) for her outstanding work to the community, ensuring food remained on shelves in Gibraltar post-Brexit.
Three Morrisons Community Champions - whose work has led to thousands of donations to charities and local food banks - have been honoured with a British Empire Medal (BEM) for their 'hands-on' commitment to helping those around them throughout the year.
Morrisons Chief Executive, David Potts, said: "During these unprecedented times, our colleagues have acted selflessly to adapt to ever-changing conditions and to put their customers first. I want to say a very big and heartfelt thank you to Angela, Rose, Alison and Rochelle - and to all our colleagues - for their enormous and continuing contribution to their local communities and the country."
Angela Johnson MBE - Morrisons Supply Chain Manager
Angela has worked around the clock to ensure food remained on shelves in Morrisons Gibraltar following the end of the EU transition period. The store serves 42,000 customers per week and is an extremely important source of food and essentials to the people of Gibraltar.
New regulations from January 1st 2021 brought a range of complex challenges which Angela faced head on - always unfailingly patient, calm and determined. Dedicating most of her waking hours to the vital project, she worked with suppliers, customs agents, hauliers, government officials and the Gibraltar store management team to maintain the best possible availability of staple products.
Angela's strong and collaborative relationships with officials at Defra, the FCDO and the Government of Gibraltar are testament to her indefatigable character. She has played an essential role in ensuring food supply to Gibraltar, during an extremely turbulent period, going consistently above and beyond the day job.
Angela Johnson MBE, Morrisons Supply Chain Manager, said: "I am incredibly honoured to receive an MBE for my work supporting our Gibraltar store over the past couple of years. My only focus was on ensuring Gibraltar received enough stock to serve their customers every day and I am really proud of what we all achieved to make that happen."
Rose Morgan BEM - Community Champion, Peckham
Earlier this year, Rose shared an idea called 'Seeds of Hope' with Morrisons Chief Executive David Potts which would go on to be launched in all Morrisons stores across England, Scotland and Wales. It aimed to help customers plant hope for a brighter future as lockdown restrictions start to ease.
'Seeds of Hope' grew into something special and saw customers and communities receive over 2.5 million free packets of sunflower seeds, giving hope to the nation and helping to lift community spirit by getting people, both young and old, outdoors planting. Rose inspired over 500 Community Champions to lead Seeds of Hope in their local communities, giving seeds to local primary schools, care homes and community groups to name a few.
Rose is an inspiration to her local community in Peckham and to Morrisons Community Champions across the nation. Her positive energy and dedication to helping others is something she's widely recognised for. Always finding new and impactful ways to support and celebrate others, she is a force for good in Peckham, supporting numerous charities and community groups each and every week.
Rose Morgan BEM, Community Champion at Morrisons Peckham, said: "When everyone was emerging from lockdown after such a difficult time, I wanted to give my customers fresh hope and food for the heart by putting smiles on as many faces as possible. I had the idea of using sunflower seeds to represent this new beginning and so emailed David our CEO to share it with him and I'm so glad he liked it - I am incredibly proud that I got to spread this message and it touched so many people this year with a much needed moment of joy and hope."
Alison Whitburn BEM - Community Champion, Morrisons Littlehampton
From regularly donating to women's refuges and foodbanks, to supporting schools so children don't go hungry during holidays and even establishing a new soup kitchen for local families in need - Alison consistently puts her community first.
Using her network of community links, Alison has helped to bring many community groups together through her work, including helping her local Brownies and Rainbows to support Littlehampton's Foodbank. Throughout the pandemic, she was keen to support the NHS - providing care packages for NHS staff and partnering with Sussex Partnership NHS Foundation Trust on their mental health campaign 'Ten4Ten', promoting ways to support mental wellbeing.
Alison is a shining star within Littlehampton - in just three years she has raised thousands of pounds to support good causes both locally and nationally. Her continued listening and commitment to supporting her local community has meant they can reach out and rely on her - through the pandemic and beyond.
Alison Whitburn, Community Champion at Morrisons Littlehampton, said: "I love my job and I absolutely love helping others. It's still such an uncertain time for many people, so being able to work in my local community, and making a difference to others is a real privilege. I'm so grateful for this honour and the work I get to do every day."
Rochelle Gardner BEM - Community Champion, Morrisons Whitefield
Rochelle has been a key driving force in fundraising for the children's charity Young Lives Vs Cancer. She has helped raise over £15,000 and donated hampers to local children which the charity supports. In September 2020, she was instrumental in organising for a young patient at Christie's hospital to receive a personal letter from Manchester United FC containing their best wishes. And in November this year, Rochelle took part in Bury Hospices 'Strictly Best Foot Forward' dancing competition which saw her not only walk away with the top prize alongside her dancing partner, but also raise over £1200 for the hospice.
During the pandemic, Rochelle also provided invaluable support and donations to vulnerable and isolating members of the local Jewish community including helping to organise a virtual event to celebrate Rosh Hashanah so that local residents felt connected in an interactive, inclusive and meaningful way.
Described as a lifeline within her local community, she is an inspiring example of a Community Champion, always going above and beyond what is expected of her within her role at Morrisons for the community in Whitefield.
Rochelle Gardner BEM, Community Champion at Morrisons Whitefield, said: "I'm thrilled to be recognised for something I am so passionate about. I love playing a part in supporting our community and those around me. It really is an honour to do this for a job every day."
- ENDS -