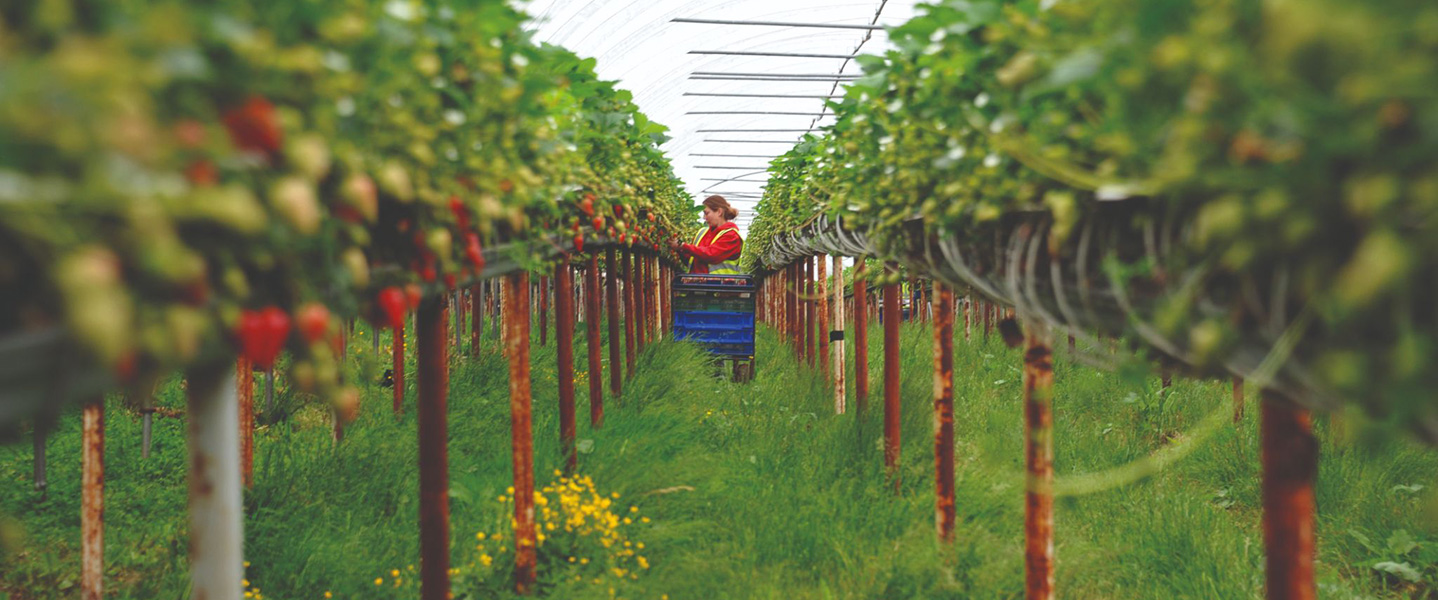 How the food we sell is grown and made has a large impact on its environmental footprint. That's why we work with farmers to ensure the land they farm and the natural resources they use are managed sustainably, promoting biodiversity as an important part of this work.
Soils
Soil is the most important natural resource for food and farming. When it is in good health, it nourishes the plants we grow, purifies our water, protects against flooding and captures and stores carbon. Since 2019, we have supported project farmers in our Net Zero agriculture programme to measure the soil structure and carbon content of soils. By 2025, we aim to have farmers across our supply chain measuring and assessing soil health, and having action plans to improve it.
We have also supported training on soil health for farmers\ and we work with the Soil Health Industry Platform to share knowledge and common ways of working.
Forests
Globally, forests help to keep our climate stable and are home to 80% of terrestrial life. However, key commodities such as palm oil and soya can have significant risks of deforestation. That's why we're working towards zero deforestation in key risk commodities by 2025 (including soya for animal feed). Read our Deforestation & Land Conversion Policy for more details.
Our Net Zero Agriculture programme has also supported programmes to remove or reduce soya in animal feed, replacing with alternative proteins including insects.
Woodland and trees
Many UK farms include woodland, which is a vital store of carbon and a home to thousands of species of plants, insects and animals. Tree planting can also help prevent flood risk and improve soil quality. We help the farmers we work with to find grants and expert help to improve the woodlands on their farms and to plant new trees in the most beneficial way.
It's our goal that by 2025, many of the farmers supplying us will access grants and/or expertise to maintain, manage and extend woodland areas on their farms.
Farmland
Morrisons supports a transition to more regenerative agriculture, where the environment and food production are in better balance. We're working with our supplier farms to move away from monocultures and to encourage more spaces for nature and a greater diversity of crops and species farmed.
Within our Net Zero Agriculture programme, many farmers are already using planting to boost biodiversity. Examples include using multi-species grassland swards instead of a single species, which can boost biodiversity and reduce the need for fertiliser; and growing cover and companion crops, which can improve soil health and biodiversity.
By 2025, we expect many of our supplier farmers to be enrolled in England's Sustainable Farming Incentives (and similar schemes in the devolved nations) as part of their environmental land management strategies. To support this, we will continue to work with teams from Catchment Sensitive Farming and The Forestry Commission.
Pesticide management
We are aware of the global decline in insect populations and want to play a part in reversing this trend. So, as well as following the UK's strict pesticide approval process, our growers are also required to use pesticides in a responsible and targeted way that protects pollinators, the environment, customers and the growers themselves. They also use Integrated Crop Management (ICM), which means they promote non chemical-based methods of disease and pest control, and target specific solutions to particular pests. Their progress on pesticide use and ICM is assessed by independent auditors. For more information on pesticides, see our Pesticides Policy for Fresh Produce.
In stores, we are also running a trial programme which tells customers that because we're reducing pesticides, there may be more insects present in our produce, so items may need washing before consumption.
Project pollinator
Around 80% of the shell eggs we sell in our stores come from farms that sow 'bee friendly' blended mixtures of plants into strips of land to attract and maintain bumblebee populations.
By 2025, we aim to have encouraged many more produce and livestock farmers into planting schemes to encourage pollinators.
Peat
To reduce our reliance on peat, we will phase out peat-based compost at our 497 stores and 303 garden centres across the UK by the end of 2022, and move to 100% peat-free compost.
Our sites
For new development in our own stores and factories, we will ensure the site maintains at least similar level of biodiversity, and improves it wherever possible.