Our Approach to Healthy and Sustainable Diets:
We want to make healthy, sustainable food affordable and available for everyone and do everything we can to make it as easy as possible for our customers to lead healthier lives. That includes ensuring our healthy products are affordable, widely available, convenient and tasty so our customers don't have to compromise. We will also provide information about our products such as nutritional labelling on our packaging so it's easy to make healthier and more sustainable choices.
Our approach to Healthy and Sustainable Diets is based on the Eatwell Guide and we encourage our customers and colleagues to use this as their guide to a healthy and more sustainable diet. In particular we are committed to helping our customers and colleagues consume more vegetables and wholegrains both of which have wide ranging health benefits including increasing dietary fibre.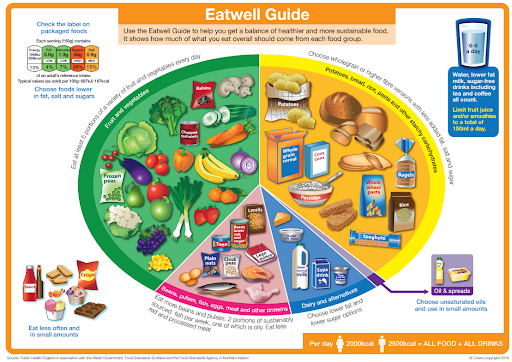 Our strategy is underpinned by our Nutrition Policy and we often go over and above the latest government guidance. Since the establishment of the first voluntary salt targets with the Food Standards Agency we have worked hard to deliver voluntary industry nutrition targets and plan to continue working collaboratively with the government as new nutrition targets and strategies are developed. We formally review our Nutrition Policy every six months against the latest government guidance.
Governance
Within our Sustain programme we have 10 Environmental and Societal strategic workstreams. Healthy Sustainable Diets is one of our key strategic workstreams and we have a clear Healthy and Sustainable Diets strategy (which encompasses our nutritional strategy) to help our customers and colleagues make healthier and more sustainable choices.
Ensuring that our own brand products comply with our nutrition policy is a two stage process. Every product is subject to a formal independent review at 'Brand Panel' where nutritional information is reviewed. Additionally every product has a detailed specification which outlines its ingredients and nutritional profile. This is reviewed and approved by Morrisons Compliance team to ensure it meets our Nutritional Policy prior to launch.
Stakeholder Engagement
We engage with a number of government departments (UK and devolved) to help support the public health agenda and share knowledge to help support a 'whole systems' approach including the Department of Health and Social Care; the Department for Environment, Food and Rural Affairs; the Food Standards Agency; Public Health England; and The Office for Health Inequalities and Disparities. We also support a number of key organisations, charities, plus academic and research institutions that are providing evidence-based health information and that are supporting scientific communication and education around health - such as the BRC (British Retail Consortium) and IGD (Institute of Grocery Distribution).
Nutrition Policy
Our Nutrition Policy (NP1) applies to all our Own Brand products. This includes all of Morrisons brands, for example: The Best, Nourish, Plant Revolution, and Wonky. It also includes the products which don't have a label on them which we sell on Market Street at our counters and in our Cafe. Our policy is shared with our Own Brand suppliers through our Morrisons Create Portal.
When we develop new products or reformulate existing products we review and challenge the product's ingredients and nutritional profile to find opportunities to improve the product. In particular we focus on whether any aspects of the product's nutritional profile have red or amber traffic lights and review them against similar products to try to drive improvement.
A 'Brand Panel' independently reviews every Morrisons product before launch. They conduct a nutritional review of the product alongside assessing its quality and taste.
Nutrition Parameters
Our nutrition parameters apply to all Morrisons own brand products and brands owned by Morrisons, unless otherwise indicated. All new products are required to meet these criteria as they launch, along with existing products - as and when they are reformulated - as agreed with the Morrisons Product Manager / Buyer and Nutrition Team.
We have a holistic approach to nutrition improvement and any reformulation that takes place, to improve product quality or reduce a nutrient value, should not be at the detriment to the overall nutrient profile of the product e.g. a reduction in sugar should not lead to an increase in the saturated fat content.
All products in the range must meet IS01 - Morrisons Fundamental Product Integrity Standard - and conform to all current food legislative requirements and other relevant Morrisons technical and labelling policies. These include:
Contain no artificial colours or flavours
Only contain naturally occurring trans fats
Contain no unnecessary additives
Portion Sizes
We set portion size guidelines for our own brand products to ensure that we continue to offer a range of portion sizes and to minimise the trend of increasing portion size.
Nutrition Targets
Product categories have specific nutrient targets for calories, sugar and salt per 100g and, where relevant, per serve. These targets have been established with the aim to support and deliver Public Health England's reformulation targets for sugar (2020), calories (2024) and salt (2024). Saturated fat scoping is currently underway and will be updated in our next policy review (October 2022).
In addition to the standard nutrition targets, we have specific nutritional requirements for our own brand Nourish and Counted products.
It is important to provide transparency when products are identified as healthier or 'reduced' (e.g. Reduced Fat). We have strict guidelines only allowing the use of the term 'Reduced' where products are at least 30% (for fat) and 25% (for salt) per 100g less than standard equivalents in the same category.
Products Targeted to Children
i. Little Kitchen (4-6 years)
Little Kitchen products are developed to provide convenient meal solutions, meal components and dairy offerings to children between the ages of 4 and 6 years. In addition to all government guidelines, products developed for this range should also be:
Appropriate for smaller appetites and should not encourage over consumption. Typically portion sizes should be 50% to 75% of the size of a comparable standard adult own brand product.
Single serve (or multipacks of individually packaged products) with the exceptions of cooking sauces or ingredients that would need further cooking / processing.
Where technically possible no free salt should be added directly to the product, and free sugars should be limited.
ii. Nutmeg Baby
We closely follow and abide by all relevant mandatory legislation covering baby and infant food. In addition, we have set maximum thresholds for sugar in all our wet baby food and place emphasis on savoury development. Our range is currently comprised of wet baby food (main meal) products only.
Trans-Fatty Acids
In 2007 we made a voluntary commitment via the British Retail Consortium to eliminate industrially added trans fats from our entire range of own brand food and drink. These are no longer allowed in any Morrisons own brand products. We also removed trans-fatty acids from our own brand products, except where products naturally carry small amounts, such as dairy products and meat.
Labelling and Nutrient Profiling
The UK nutrient profiling (NP) model was developed by the Food Standards Agency (FSA) in 2004 as a tool to help Ofcom differentiate foods and improve the balance of television advertising to children. Ofcom introduced controls which restricted the advertising of HFSS foods in order to encourage the promotion of healthier alternatives.
We use the 2004/05 NP model without any adaptation across all own brand foods and drinks to determine which own brand foods and drinks are classed as high in fat, salt or sugar (HFSS). Our results are published annually in terms of our commitment to increasing the number of own brand non-HFSS products we sell.
We also use the model across all own brand and branded food and drink for existing CAP/BCAP Code restrictions. We use 'healthier' signposting across all media e.g. point of sales, own brand adverts, digital media etc.
In line with impending 'HFSS' legislation, we will in addition use the 2004/05 NP model to apply the relevant volume price and location restrictions to the categories of prepacked food and drink that have been identified as significant contributors to sugar and calorie intakes and which are sometimes heavily promoted.
Healthier Living Icon
To allow our customers to make positive food choices we have developed an approach to identify 'healthier' food products and label them with our 'Healthier Living' icon.
We believe that an individual food scoring model cannot accurately reflect the complexities of all food products - as in some instances the scoring does not always represent what is expected of a healthy product. So we take a unique approach applying an additional nutrient profiling funnel model (NPFM*) to all our own brand food and drink.
The NPFM is based on a number of existing, recognised and well-established external nutrient profiling models (UK 2004/05 NP combined with the Nutri-Score and Health Star Rating Systems) that combined offer a better indicator of 'health'.
The NPFM allows us to use a single metric to determine the 'healthiness' of each of our products, used across own brand products and for communication purposes. All Morrisons own brand products that pass the NPFM are permitted to carry the 'Healthier Living' icon.
We will continue to review and evolve our approach as the UK 2004/05 NP model is reviewed.
Front of Pack Traffic Light Labelling
We are committed to delivering transparency in nutritional labelling and for many years have been committed to front-of-pack traffic light labelling. We take a hybrid labelling approach, which combines multiple traffic lights (MTL) and reference intakes.
We follow the nutrition criteria set by Department of Health (2016) and are compliant with the retained Regulation (EU) No. 1169/2011 which was incorporated into domestic law under the EU (Withdrawal) Act 2018. The following applies to Morrisons own brand products:
Front-of-pack labelling is provided in addition to the full mandatory back-of-pack nutrition declaration table i.e. including per 100g/ml and per portion nutrient values.
Our product label designs carry clear icon labelling across the five nutritional parameters: energy, fat, saturates, sugars and salt. In exceptional circumstances, where space is extremely limited, products will only contain an energy icon.
There are some products which are not suitable for front-of-pack nutritional labelling and we have detailed our exceptions below:
| | |
| --- | --- |
| Product Category | Scope |
| Alcoholic Beverages | All varieties |
| Eggs | All products |
| Produce (Fruit & Vegetables) | All unprocessed |
| Home Baking | Decorations, colours, flavours, gelatine, jam setting compounds, yeast |
| Single Ingredient Foods | Salt and Salt Substitutes, Herbs, Spices (or mixture thereof), Vinegar, Table Top Sweeteners / Sugar, Flour |
| Water | All water without added ingredients |
| Other Beverages | Tea, Coffee and Herbal and Fruit Infusions (with no added ingredients) |
| Seasonal Gifting | All products |
| Little Kitchen and Nutmeg Baby | All products |
| Vitamins and Mineral Supplements | All products |
| OTHER | Food in packaging or containers where the largest surface is less than 25cm2 |
Permitted Nutrition and Health Claims
Where we include health claims on our products we have strict rules and criteria in place. These include the requirement that the nutrient(s) must be present in the final product in a significant amount throughout the entire shelf-life to warrant a claim as defined in Part A of Annex XIII of Regulation (EU) No 1169/2011 (as amended).
Products highlighting a nutrition and / or health claim must meet our Morrisons nutrition target for salt, be classified as 'Non-HFSS' by the 2004/05 UK Nutrient Profiling Model, and carry no red and a maximum of two amber traffic lights.
5 A Day Claim
A '5 A Day' claim must only be used on fruit and vegetable products that provide at least one portion per serving. Portion sizes are 'as consumed' (i.e. without inedible skin, or liquid medium etc.), and a variety of fruits and vegetables can make up one portion.
Single fruit or vegetables, whole or puréed, can only count towards 1 of 5 A Day and we limit unsweetened 100% fruit and/or vegetable juices and unsweetened fruit and/or vegetable smoothies together to a total of 150ml per day.
Beans, such as haricot, butter, soya and kidney beans, as well as chickpeas and lentils can only contribute to 1 of 5 A Day.
Dried fruit and bars, provided that they contain only dried fruit and no other added ingredients, are only permitted to contribute to 1 of 5 A Day and we encourage customers to consume them as part of a meal to reduce the impact on dental health. Any individual serving pack containing more than 1 portion is not permitted to carry a 5 A Day claim.
Morrisons Suppliers
There are a number of supporting documents for our suppliers to ensure we together apply our nutrition policy. These are available on the Morrisons Create Portal and include:
NP01: Morrisons Nutrition Policy
Multiple Traffic Light (MTL) Form
Sample Submission Form
Nutrition Targets and Guidance
Sub Brand Nutrition Criteria
Nutrition Concession Form
Nutrition & Health Claims
Generation & Verification of Nutrition Information