Campylobacter Update November 2022
Since 2013 we have been working hard to reduce Campylobacter levels in fresh chicken. We have introduced a Campylobacter reduction plan which has shown significant improvements year on year.
Our results for the 3rd Quarter of 2022 (July to September) are as follows:
0.9% of our chickens have the higher levels of contamination compared to the FSA retail target of 7% from a sample of 109 chickens tested.
Our results now for the last 31 consecutive quarters have been below the 7% FSA retail target.
The facts:
• Campylobacter is a common bacteria which causes food poisoning which can be found on fresh chicken.
• Campylobacter is destroyed if chicken is cooked thoroughly.
• As a bacteria, campylobacter can be transferred on to any surface that raw chicken contacts.
• Food Standards Agency (FSA) advice is Do Not Wash raw chicken.
Click here for a quick guide from the FSA about Campylobacter
How you can prevent it:
We understand that campylobacter can be a concern when it comes to handling fresh chicken.
However there are 4 simple steps you can take at home to minimise the risk of food poisoning:
Step 1 - Cover and chill raw poultry at the bottom of the fridge
Step 2 - Do not wash poultry
Step 3 - Wash hands and utensils after handling raw poultry
Step 4 - Ensure poultry is thoroughly cooked

What Morrisons have achieved:
A long term reduction of campylobacter levels from 2014 to 2021.
We have worked with our suppliers and implemented a Campylobacter Action Plan, which has successfully reduced campylobacter levels on fresh chicken.
We have established our own monitoring program; our test results show levels of campylobacter are now consistently below the FSA 7% target (for the last 30 quarters).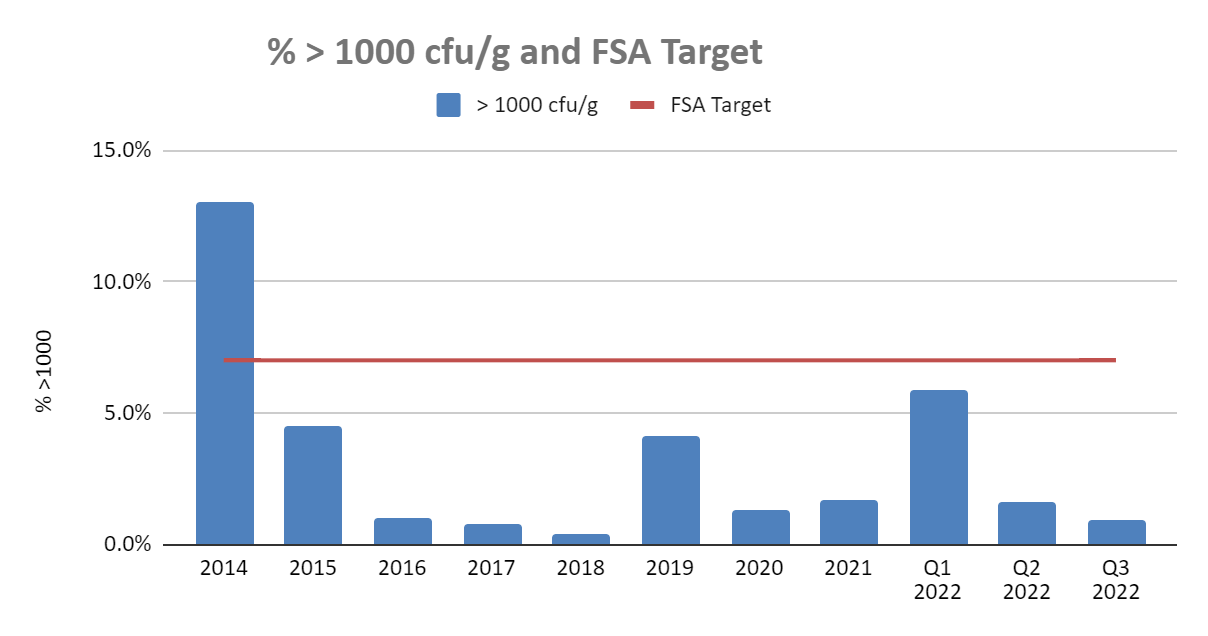 What's next?
While the results of our reduction programme are extremely encouraging, we are not complacent and we will continue to work closely with all areas of the industry to continually find areas to improve.
From the Farm to your kitchen we have studied the journey of fresh chicken and introduced a range of measures to combat campylobacter.
On the farm:
Every farm supplying Morrisons with chicken is audited to ensure improved levels of Bio-security are in place.
Additionally enhanced levels of Bio-security training for Farm and Catching teams have also been implemented across our supply base.
A program to improve the design of farm buildings to further enhance bio security – this is a long term continuous process.
Trials in feed and water additives are currently underway by our suppliers at their farms.
Tests are routinely done on all the farms that supply our chickens to see if the flocks are showing the presence of campylobacter.
Processing
Morrisons is committed to only use suppliers with demonstrable Campylobacter reduction plans.
All of our Key suppliers have a least one process intervention in order to reduce levels of campylobacter, these are:
Sonosteam systems ( this is a steam/ultrasound system)
Secondary scalding
Rapid surface chilling
All of these methods have helped to reduce the levels of campylobacter significantly.
Packaging
Our Food safety messaging on pack informs the customer:
Do not wash poultry.
Store raw meat covered at the bottom of the fridge.
Use separate utensils and surfaces for raw and cooked foods or wash thoroughly in between use.
Wash hands after handling raw meat and poultry.
Unwrap and dispose of packaging carefully.
We have leak proof packaging on our poultry products to minimise the risks of cross contamination in store or at home.
For customers who prefer not to directly handle the chicken we have introduced cook in the bag chickens across half of our range.
More information about campylobacter and food safety can be found on the FSA website by clicking here.