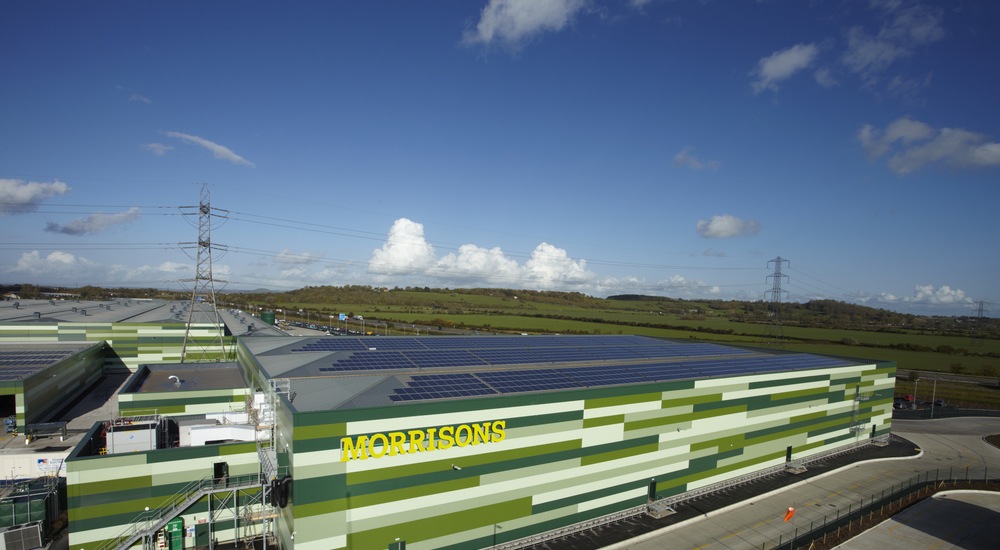 As a leading retailer, we know we must play our part in tackling the climate crisis, so we're taking action in our own operations and within our wider supply chain to reduce our carbon footprint.
Why it matters/commitments
We're proud to be a signatory to the British Retail Consortium's (BRC) Climate Change Roadmap, which sets key milestones for our industry. Our climate targets have been validated and approved by the Science Based Target initiative as being in line with climate science.
Our targets are to:
Reach Net Zero greenhouse gas (GHG) emissions from our own operations by 2035 and, as an interim step, making an absolute reduction of 46% by 2030 compared to 2019*.
Reduce our Scope 3 emissions (from our supply chain) by 30% by 2030 compared to 2019*.

Net Zero from our own operations
Between 2019 and 2022, we reduced emissions from our own operations, which includes vehicles on the road, our 500+ stores and manufacturing sites, by 17%. Steps we've taken include:
Installing solar panels in over 85 sites. This has increased our renewable generation capacity to 25MW.
Introducing technology on the shelves of our open fridges to keep the cold in and reduce energy consumption in over 75% of our stores. We are also using the heat created by refrigeration to provide hot water in store.
We opened a lower environmental impact store which uses more than 40% less carbon as part of its operation. The store utilises a heat pump, solar PV, voltage optimisation and rainwater harvesting.
As of 2023, we now have fast, rapid or ultra-rapid EV charging facilities in over 300 stores.
We are upgrading our HGVs to the newest specifications, trialling alternative fuels such as Compressed Natural Gas (CNG) and optimising driver behaviours and vehicle loads to improve efficiency and reduce mileage.
We are currently trialling 2 fully electric LGVs, with plans to expand this number and phase out diesel vans.
Reducing our supply chain emissions
Emissions in our wider value chain, including the products we sell, account for 97% of our total emissions.
Alongside other UK retailers, we're working with Manufacture 2030 to measure the emissions of our wider supply chain. As part of this initiative, own-brand suppliers such as Morrisons are encouraged to reduce the greenhouse emissions associated with the sourcing, manufacture and transportation of their products. In 2023 we also joined forces with WRAP and 7 other major retailers to form the Net Zero Collaboration Action Programme, aiming to standardise measurement and reporting of GHG emissions from food and drink.
We measure and report on our Scope 3 footprint every 2 years, this was last measured for 2021. We have a target to reduce our value chain emissions of our own brand products by 30% by 2030. So far we have achieved over a 10% reduction against our 2019 baseline, we will report on our Scope 3 footprint and progress again next year in 2024.
As British farming's biggest supermarket customer, we're in a strong position to lead changes in environmental practice. We've set an ambition to be the first supermarket to be directly supplied by net-zero carbon British farms by 2030. Net Zero products will be sourced directly from our British farmers into our food making sites for own brand products and will include beef, pork, lamb, potatoes and eggs.
Our first products, 'Planet Friendly Eggs' launched in summer 2022. These come from Morrisons farms where hens are fed a soya-free diet of insects - which are in turn fed on food waste from our bakery, fruit and vegetable sites. This pioneering 'circular waste' feeding scheme, powered by Better Origin technology, reduces deforestation potential caused by soya production.
We also founded The School of Sustainable Food and Farming, which is a unique partnership between Morrisons, McDonald's UK, NFU and Harper Adams University. In addition to research, its courses will seek to help farmers on the road to net zero by covering aspects such as regenerative methods for livestock, soil health and biodiversity, to help produce the nation's food in a more sustainable way.
Our blueprint for a lower impact store
Little Clacton is our first "lower impact" store. It aims to emit 43% less carbon than a standard Morrisons store.
The store is 100% electrically powered with no gas, and includes next- generation fridges powered by CO2 from agricultural waste, rooftop solar panels to provide a fifth of its energy use, and rainwater harvesting for toilet flushing.
It has a near zero-waste back-of-house system, facilities to recycle customers' waste and stocks a significant number of loose and locally sourced products. It has 20 electric vehicle charging stations for customers, offering charging speeds from 15 minutes to eight hours.
As well as low-impact design and less packaging and waste, the store also includes a range of biodiversity schemes and offers more healthy and nutritious foods, and more support to the local community.
* On Scope 1 and 2 emissions Morrisons is making the move to help limit global warming to 1.5 degrees, in line with the highest ambition of the international Paris Agreement - to limit temperature rises to 1.5 degrees above pre-industrial levels. Morrisons Scope 3 emissions will follow a well below 2 degrees pathway.
---
---