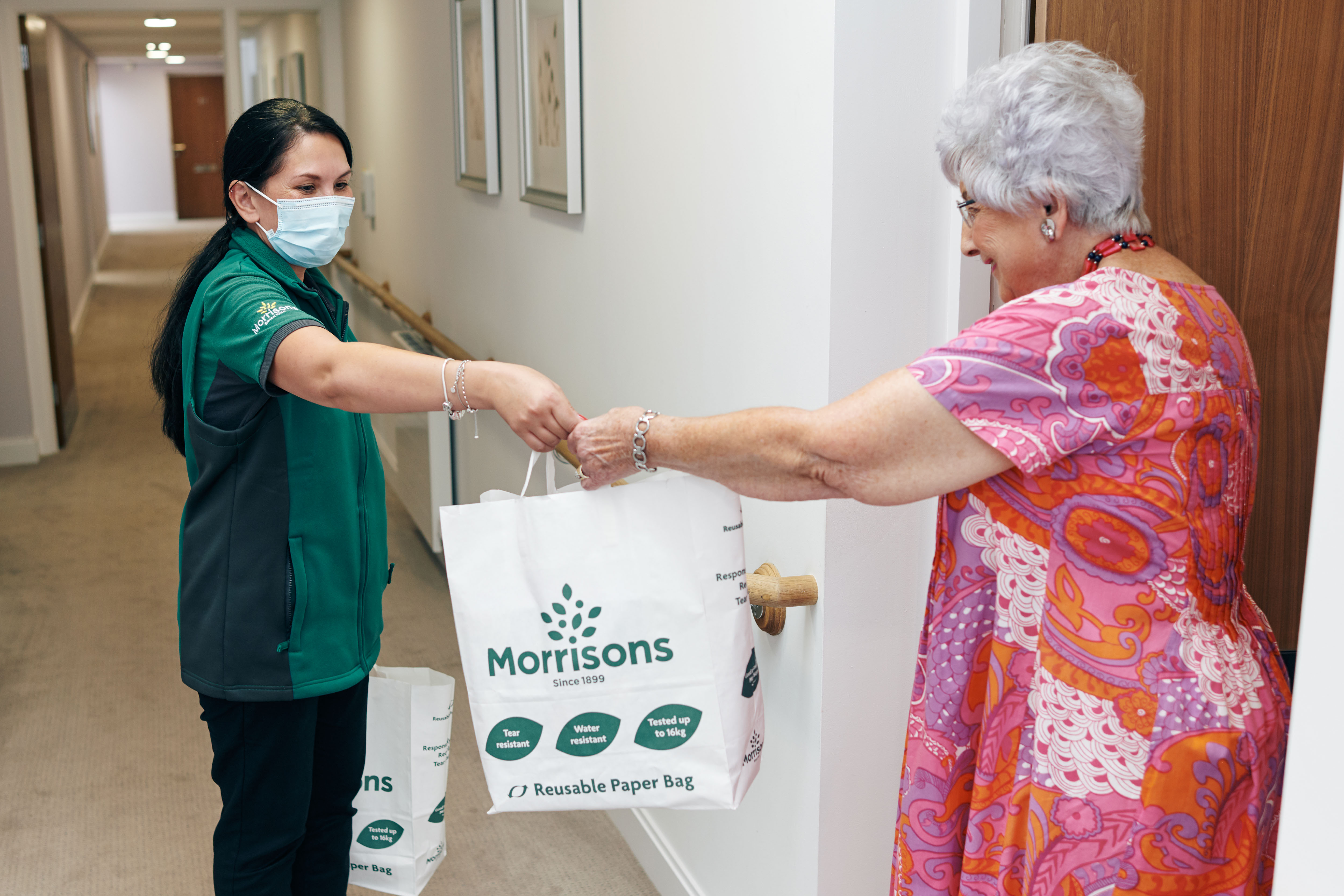 Our stores are integrated into their community, and raise money for causes our customers care about.
Why it matters/commitments
Each of the communities we serve has its own diverse needs. Acting in its best interests helps us to become a trusted partner for the local community.
Our target is to raise £10m by November 2024 to support our current charity partner, Together For Short Lives.
National Charity Partnership
We launched our current charity partnership, with Together for Short Lives, in February 2022.
Together for Short Lives is the only charity supporting the UK's 54 children's hospices and families facing the heartbreak that their child will die young. It supports 99,000 families in the UK as well as the children's hospices that provide them with vital care.
Every one of our stores and sites has been twinned with a children's hospice close to them. The money raised through our partnership will give families access to vital care from local children's hospices and help them to spend less time worrying and more time making memories together.
From 2017 to 2022, we were partnered with Young Lives vs Cancer (formerly CLIC Sargent), raising £18.4m in 5 years. The money we raised helped families with the financial costs of cancer through a grants programme, funded a team of Community Nurse Educators, and enabled more families to access 'Homes from Home', which offers a free place for families to stay when their child is going through cancer treatment.
In the final year of the partnership, we also funded the purchase, renovation and future five-year running costs of Jack's House, a Young Lives vs Cancer Home from Home in Manchester. Jack's House is named after Jack Thompson, a 14 year-old who was diagnosed with a brain tumour as a baby that has left him partially sighted.
Responding to local needs
Every Morrisons store and site has a Community Champion, who is tasked with supporting their local community. We also provided a budget of £1.4m to Community Champions across the country, which was principally used to make donations of products to local good causes.
In summer 2022 we launched our Community Food Programme to donate £100,000 of products to local holiday clubs across the country, providing the foods they need the most, such as fresh fruit, cereal, sandwiches, snacks and drinks.
Our "Package for Sandy" initiative is helping to fight back against social injustice by offering sanitary products to customers in need. When customers ask for a 'package for Sandy' or a 'period product pack' at any Morrisons customer service desk nationwide, they will be given a free, discreet envelope containing sanitary products, with no questions asked.
Supporting national campaigns
Over the last five years, we've also raised over £8m for the Poppy Appeal, £3.3m for the Marie Curie Daffodil Appeal and almost £300,000 for Children in Need.
We are the headline sponsor for the NHS Charities Together's celebration of the NHS Big Tea, a national tea party held in July to celebrate the anniversary of the NHS and raise money to support NHS staff, patients and volunteers. We have supported this since 2021, through collections and fundraising events in store, as well as our "Every Pack Gives Back" initiative and events and donations through our cafes. In total we have raised over £370,000.
We're key partners of the Disaster Emergency Committee, responding to humanitarian crises across the world by raising vital funds in our stores. For the Ukraine Appeal, which launched in March 2022, we raised almost £1m through colleague and customer donations in store and online.
We also answered Bowel Cancer UK's call to join their Get On A Roll campaign in June 2022. As part of this, we donated £50,000 to the charity and committed to raise awareness by adding bowel cancer symptoms to our own-brand toilet paper packs. The first packs with this messaging landed in stores in August 2022, and posters in all our customer and colleague toilets have similar messaging.
The Morrisons Foundation
Since it was established in 2015, the Morrisons Foundation has donated over £37.1m to over 3,100 different charities across England, Scotland and Wales.
The focus of the Foundation is on making a long-lasting impact on local communities as well as increasing the support for our colleagues' charity initiatives through a match funding programme.
The Foundation grants up to £25,000 to fully fund charity projects that improve people's lives, and matches the funds raised by colleagues for their chosen charities.