We have an established approach to assessing risk in our global supply chains which is continuously reviewed to take account of emerging challenges and updated information sources.
We are members of the Supplier Ethical Data Exchange (Sedex) and utilise their platform and tools to understand and assess key areas of risk in our own-brand supply chain. All suppliers and sites in scope of our policy must hold active membership of Sedex, maintain an up to date Self Assessment Questionnaire (SAQ) and link to us through the platform.
Our Ethical Trading team have also developed a high level country risk tracker to identify where there is a likelihood of human rights risk and flag that additional due diligence actions may be required prior to commencement of business with Morrisons. The overall country risk scores are based on information from a number of external sources including:
US State Department Trafficking in Persons Report
Transparency International Corruption Perceptions Index
International Trade Union Confederation Global Rights Index
US Bureau of International Labour Affairs list of Goods Produced by Child Labor or Forced Labor
Food Network for Ethical Trade (FNET) country risk score.
The country level tracker is reviewed regularly to account for updates to the contributing indices and inclusion of information from site visit reports and insights from the media and civil society. We also maintain a separate list of countries and regions where all sourcing of finished goods, ingredients and raw materials is restricted. This list includes countries where there is either no guarantee of workers rights due to the breakdown of the rule of law, or where local circumstances make it impossible to conduct robust and effective due diligence
We assess suppliers using this data and complement our decision making with advice and insight from external partners including NGOs and Trade Unions. This provides us with an ongoing picture of actual and potential human rights risk and basic compliance in our supply chain, which enables us to identify where to focus resources for further improvement and collaborative action.
To increase understanding of our exposure to risk in the lower tiers of our supply chain, in 2021 we commissioned an independent assessment to identify and prioritise our highest risk commodities and geographies.
Desk research was carried out to identify key risks across six thematic areas: modern slavery, child labour, discrimination, low wages, water scarcity and deforestation. Based on the findings a score was given to quantify the level of risk of human rights / sustainability issues occurring in each sector and specific sourcing country.
The initial assessment enabled us to develop a map highlighting the inherent risks associated with commodities and geographies and an overview of existing initiatives that could support mitigation and improvement.
Each country is shaded to indicate risk by ingredient and country combination. Where multiple risk issues or multiple ingredients were identified, the country is highlighted by the highest score.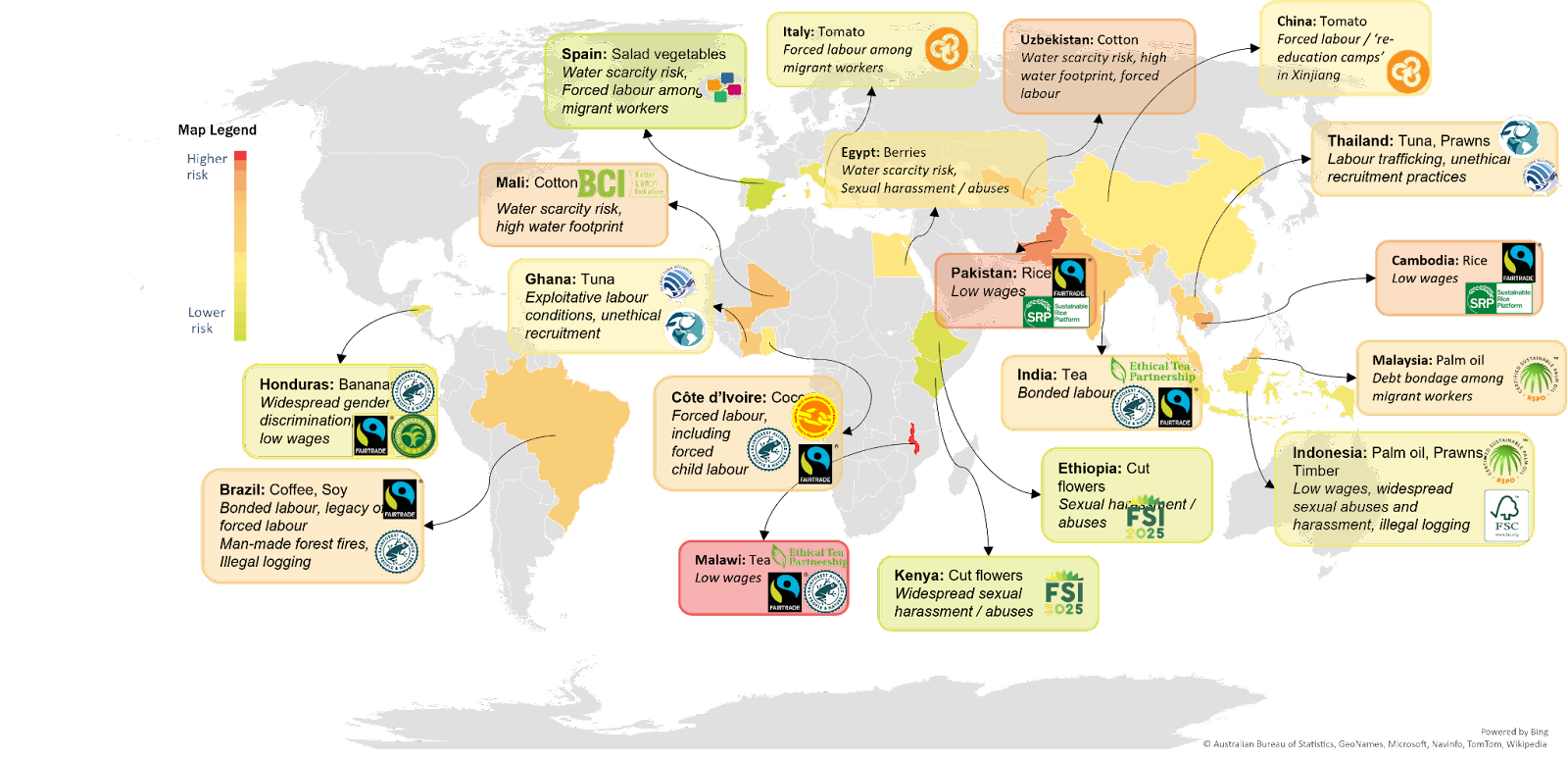 Based on the findings of the initial global risk assessment, the product selection was refined further through internal stakeholder engagement and by combining highest risk factors across both human rights and sustainability topics, using the process illustrated below.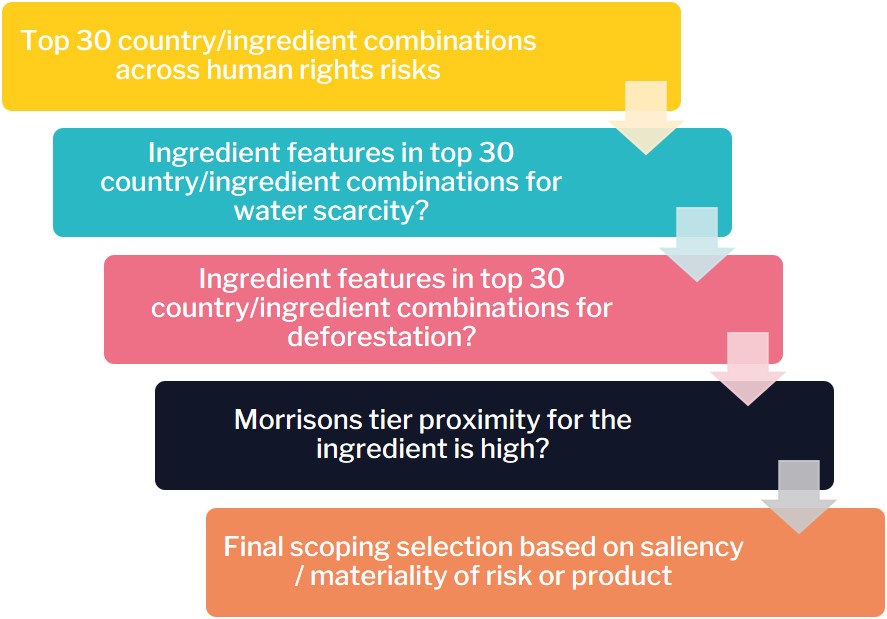 Through this process we have identified 15 priority higher risk products to focus our mitigation and improvement activity over the next 3-5 years: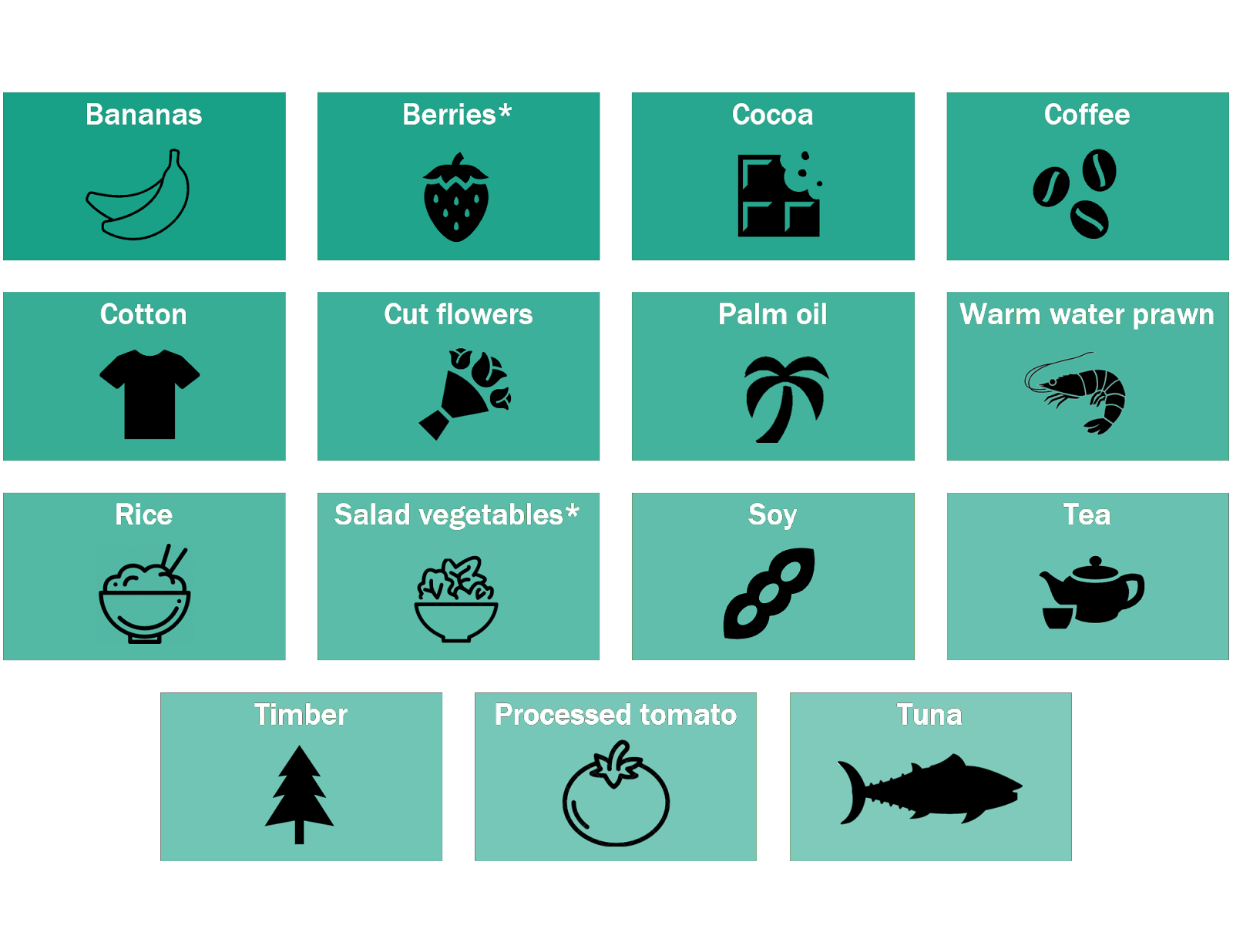 We recognise that a key next step in this process is to gain a detailed understanding of the impact of Morrisons sourcing of these commodities in higher risk geographies. We consider the most effective way to deliver this activity is through the use of human rights impact assessments (HRIAs), and have committed to undertake and publish three of these by the end of 2022.
Click the box below for more detail:
---