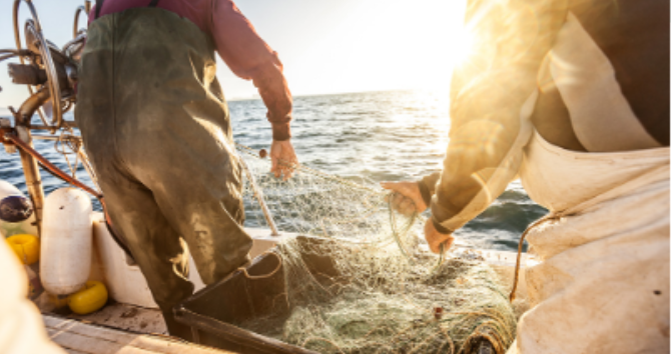 Sustainable seafood sourcing means supporting the local communities who catch the fish we sell as well as ensuring the environmental standards of production, and this is as much a challenge for the UK fishing industry as anywhere else in the world.
With over 70% of fish caught in the UK exported out of the country, the British public often misses out on a wealth of quality and nutritious locally caught species. We believe we have an important role to play in championing this British product, improving awareness of these species, helping to increase their consumption as part of a healthy balanced diet, helping to reduce pressure on global stocks of key commercial species which are largely imported, reducing food miles and delivering our customers the freshest fish.
Covid-19
Covid-19 has created an unprecedented challenge for UK fishermen who are heavily reliant on export markets and supply into the hospitality and food service industry for their livelihoods. With the loss of these markets some parts of the fishing industry were not able to go out to fish, and so suffered huge losses in income. To help create demand for these important British fish stocks including Dover Sole and sardines, we launched a British fish pack for store sale containing range of species caught by British boats and landed in Britain. Tips on how to prepare and cook the fish were also shared on social media and through the 'Sea for Yourself' campaign.
Fresh Fish Counters
Our specialist fishmongers have one the widest range of species available to take home in store that day or to order from the counter including British crab, scallops, langoustine, dab, plaice, gurnard, herring, mackerel, sardines, pouting and lemon sole. They can offer expert advice from the counter on preparation or cooking.
UK Fishery Standards
Achieving sustainability standards for some less commercial UK species is a journey that in some cases will take years, helping build understanding of the stock status, the impact of the fishing activity on the wider ecosystem and what management measures need to be in place. We are keen to support smaller fisheries on their journey to sustainable sourcing, so are a partner in Fishery Improvement Projects like Project UK, a collaboration with the Marine Stewardship Council, the fishing industry and other peers - more information on this project can be found here.
The South West of the UK is an important fishing area of the UK, many productive fisheries in this area, which are key parts of the local economy are not yet part of fishery improvement projects. We are working with our key suppliers in this region alongside Seafish to support scientific assessments to help understand the impact of different fishing operations. We also use and regularly review guidance from the Marine Conservation Society across these fisheries to ensure we continue to source with care.