---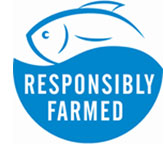 This is the managed culture of fish and seafood for human consumption.
In 2013 more seafood came from aquaculture sources than from wild capture. Our range of farmed seafood includes more than 10 species ranging from salmon and warm water prawns to mussels and halibut.
Our farmed products come from independently assessed and certified farms, hatcheries and feed mills.
Instead of third party logos we put our responsibly farmed logos onto our seafood products.
---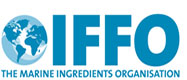 International Fishmeal & Fish Oil Organisation
When assessing farmed seafood we also look at the ingredients used to make the aqua feed whether of marine origin or terrestrial.
As well as farms and hatcheries being certified we also aim to have all of the marine ingredient processing plants certified to the International Fishmeal & Fish Oil Organisation (IFFO) standard which means that we know the fisheries which their source material is coming from.
---
Third party certification ensures that we adopt the same standards consistently throughout our supply chains.
All of the schemes that we recognise adopt multi-stakeholder participation in their standard development and we have used these opportunities to inform their development.

Responsibility in farmed supply chains means that we have to understand the links involved within them.
For farmed prawns the supply chains may be as many as 15 stages long, but as historic media coverage has outlined with issues aboard fishing boats who provide marine ingredients to feed mills we need to work with the right suppliers, engage Governments and collaborate to bring about wholesale change.
As part of our approach to sourcing we have mapped all our seafood supply chains back to source and continue to work with our suppliers on meaningful action.