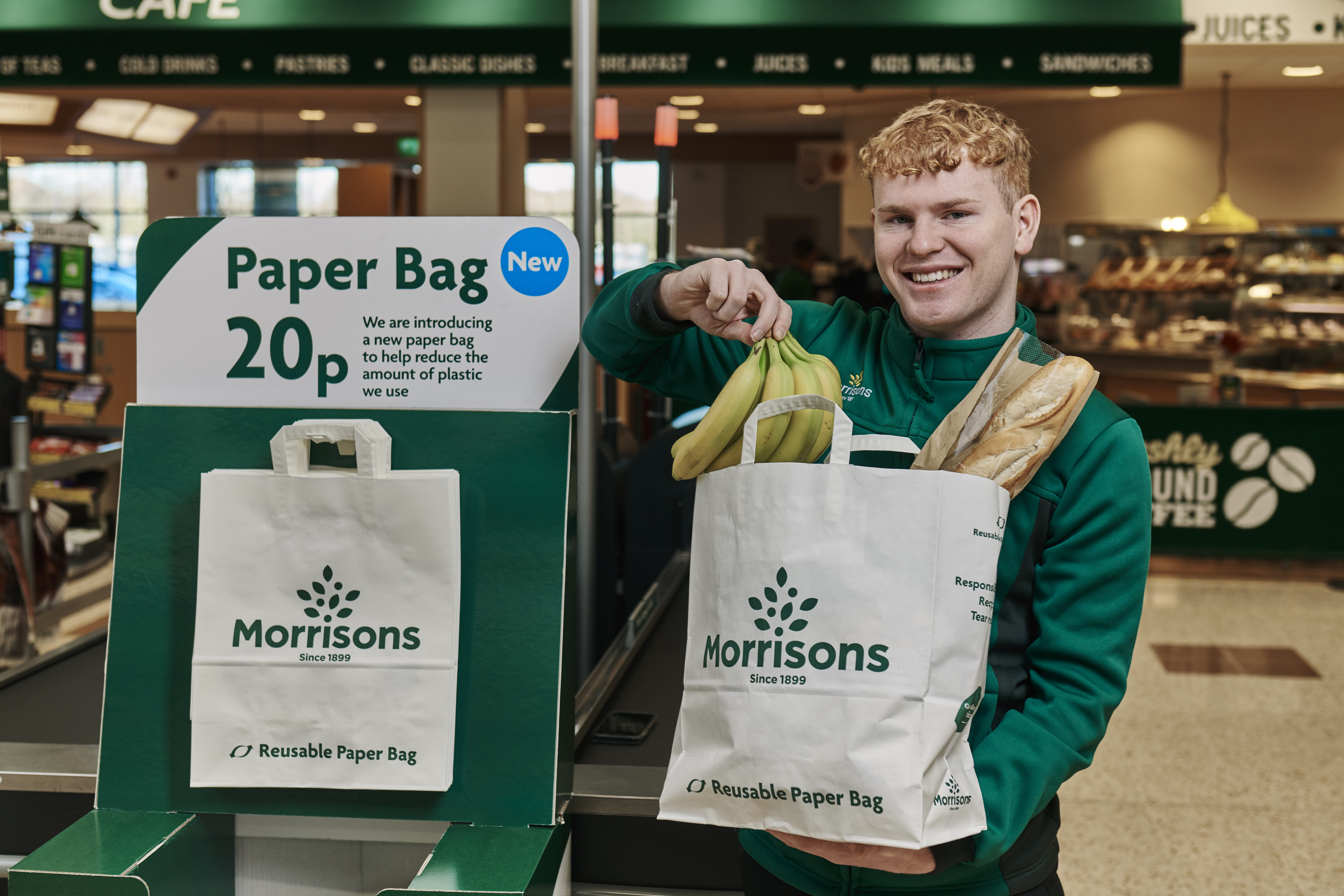 We've announced a number of measures to reduce plastic pollution - and are also making a promise that, by no later than 2025, all of our own-brand plastic packaging will be reusable, recyclable or compostable.
Why are we taking action?
Our own research says that plastic reduction is now the third most important issue for Morrisons customers.
Currently, 81% of our own brand packaging is recyclable and to achieve a 100% target, we'll be collaborating with suppliers, other retailers, local authorities and the UK's leading waste and resources sustainability organisation, WRAP.
We've been recognised by a number of organisations for taking a leading approach to plastic over the last 12 months. We report our plastic use in our corporate responsibility review online.
"Reducing the damage caused by plastic is one of the most challenging issues society can address. Because we make most of the fresh food we sell, we're in an important position to make changes to our packaging." David Potts, Chief Executive of Morrisons
Our targets
Morrisons has committed that by no later than 2025, all of our own-brand plastic packaging will be reusable, recyclable or compostable.
Our targets are that by 2025 we will have:
A 25% reduction in plastic packaging
100% recyclable, reusable or compostable plastic packaging
An average of 30% recycled content in our plastic packaging
Eliminated single use and unnecessary single use plastic packaging items determined by the UK Plastics Pact
Last year:
9,000 tonnes of plastic have been removed or made widely recyclable from Morrisons branded products
And 81% of our own brand plastic packaging is now recyclable
We are also proud that we are one of the original signatories to WRAP's UK Plastics PACT, an industry initiative which aims to transform the way businesses use plastic and prevent plastics polluting the environment.
Our initiatives
In food retail, plastic can play an important part in protecting and prolonging the shelf life of a product, helping to significantly reduce food waste. However, we know our industry needs to urgently change the way it produces, uses and disposes of plastic.
Morrisons has already taken a number of steps to reduce plastic pollution. We are working through all of our own brand products to identify, reduce and remove any unnecessary plastic packaging. Here are just some of the things we have done:
Our first priority is to remove plastic and plastic packaging where possible:
We're rolling out loose fruit and veg areas into 60 stores during the course of 2019, offering customers up to 127 fruit and vegetable varieties all in one aisle - making it easy for our customers who want to do a plastic free produce shop. Generally, prices will be comparable across bagged and loose products;
We've allowed customers to use their own containers for fresh meat and fish at our Market Street Butcher and Fishmonger counters since June 2018, and more recently we've extended this to our Deli counter for cooked meats and cheeses;
We've been trialing bulk dispensing containers for a range of products - both ambient and frozen - so that customers can buy what they want in alternative packaging or containers;
We've introduced the option of using large reusable 20p paper carrier bags in all of our stores in May 2019, and all our reusable grocery bags are made in the UK from plastic recycled from our stores;
We've removed 5p plastic carrier bags from all stores in March 2018 and are offering customers a range of reusable bags;
We've removed small plastic fruit and vegetable bags from our greengrocery aisles, and replaced them with paper bags in June 2018;
We're completely removing plastic from some fruit and veg across all stores, including British summer-season cucumbers, asparagus and rhubarb;
We removed plastic packaging from our full range of own brand eggs in June 2018;
We prohibited the use of microbeads in our own brand products, ahead of legislation;
We only stock cotton buds with paper stems, rather than plastic ones;
We only use paper drinking straws in our cafes, and we've removed boxed plastic straws from sale – replacing them with paper straws; and,
By the end of 2020 we will have removed milk jiggers from our cafes and canteens.
Then to reduce the amount of plastic and packaging when it is used:
Where products are easily identifiable, we have removed millions of little plastic stickers from our fruit and veg;
We have swapped out bubble wrap from between our apples with paper sheets to reduce how much plastic we are using in store;
Using plastic on our potatoes helps reduce greening, sprouting and them drying out, however we have managed to reduce the amount of plastic we are using by making the bags a better fit;
Our bread bags are now thinner using less plastic, and we have also added a logo to the front of the pack highlighting that you can bring this back to the store and we will recycle it; and,
To reduce the amount of plastic we are using on our packs of meat we changed the labels from plastic to paper.
We're replacing any plastic or packaging that isn't easily recyclable and using recycled materials where possible:
We completely removed expanded polystyrene from all Morrisons food and drink products in March 2019;
We stopped making any new own brand products using black plastic packaging in March 2019;
We'll have completely removed rigid PVC from all Morrisons food and drink products by the end of 2019;
From September 2019, all our own-brand ready meal trays will be made entirely from recycled drinks bottles;
We will be launching a recyclable plastic netting format on some of our citrus products before the end of 2019; and,
To reduce the amount of virgin plastic we are using we are now making our plastic bottles from 25% of recycled plastic bottles.
And helping our customers to use less plastic, provide choice and to recycle:
For many years we have offered Recycling Points in the entrance of all of our stores for old plastic bags and film that is collected, sorted and recycled in the UK;
We're trialling reverse vending machines to incentivise customers to return plastic bottles;
We're making water freely available in our cafés for customers who want to refill their water bottles, and fitting drinking water fountains into new stores. We are also included on the Refill app, to help the public easily locate Morrisons stores;
We're offering customers the option of using their own travel mugs for hot drinks at our cafes, barista bars and food to go stations, instead of using disposable coffee cups. We offer customers a 25p discount at our barista bars when they use their own cups;
We have ensured that our own brand nappies, absorbent hygiene products, wet wipes, cotton wool and sanitary protection products are labelled with the industry recommended 'Bag It, Bin It, Don't Flush It' logo; and,
We're adding front of pack logos to our biggest selling lines (e.g. toilet roll and bread bags) to highlight when packaging film can be recycled in store at one of our recycling points.
And we're not stopping here. We'll continue to update this page with all of the work that we're doing.